MSME Survival Fund In Nigeria.
Survival fund registration portal 2021 website is now www.survivalfund.gov.ng changed from www.survivalfund.ng and still open to Nigeria small business owners affected by coronavirus.
The survival fund in Nigeria is more like an economic shock absorber system lunched by the Nigerian Federal government. Information on how to access the real website mostly wrongly typed as survival found.ng or survival fund gov ng can be found on this post.
The COVID-19 pandemic has created severe Economic consequences for all countries around the world. Nigeria has also been very badly hit. The lockdowns have frozen economic activities, causing massive job losses and supply chain disruptions.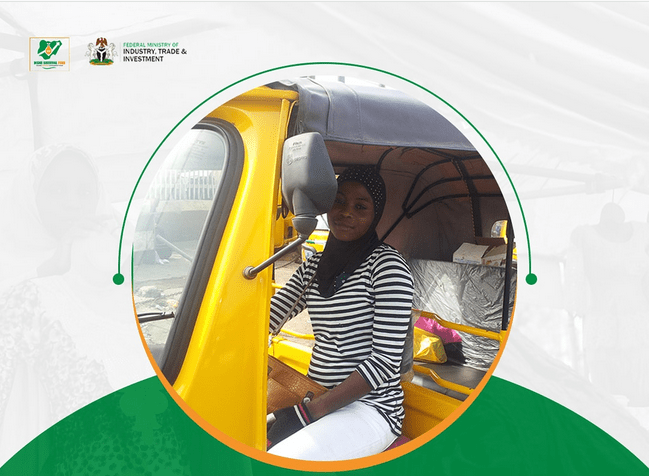 The Federal Government of Nigeria, through the Ministry of Trade and Investment have lunched the SurvivalFundNG designed to cushion the effect of the Coronavirus pandemic on the most vulnerable MSMEs across Nigeria. Targeting 1.7 million individuals and entities across Nigeria. The plan is to help through the following options:
Payroll Support.
Support 500,000 vulnerable MSMEs in meeting payroll obligations of between N30,000 to N50,000 per employee over 3months.
Formalisation Support.
Provide free CAC Business Name registration for 250,000 new businesses.
General Grant.
Support the survival of 100,000 businesses most affected by the COVID-19 pandemic with N50,000 each.
Artisan/Transport Support.
Provide 333,000 artisans and transport business operators with a N30,000 operations grant to reduce the effects of income loss.
Guaranteed Offtake Scheme.
Bulk purchase of products from 100,000 MSMEs to protect jobs and livelihoods.
The small business survival fund registration portal has now opened for registration. Survival fund requirement can be found in the process of registration on the online form.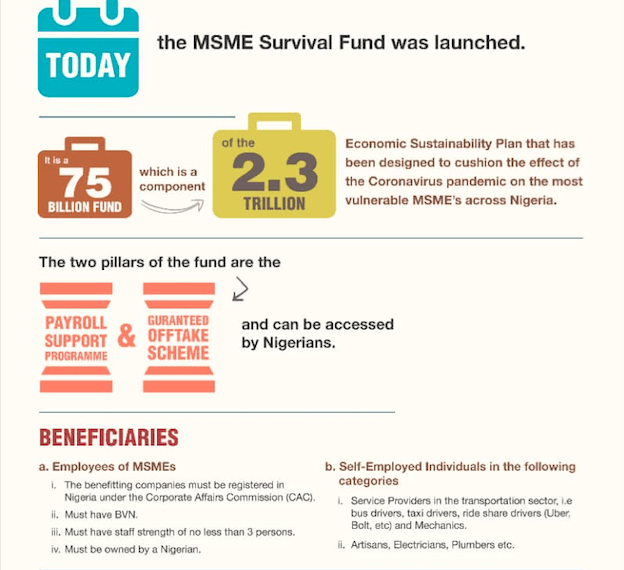 How To Apply for Survival Fund in Nigeria.
To register for the small business survival fund in Nigeria, take the following survival fund portal login guide for quick application.
Click here to Visit the survival fund ng registration portal website guide.
Select your registration type (e.g. MSME Payroll Support).
Register your personal details in the survival fund form presented on the next page.
Activate your account with the activation code you must have received on your mobile number and email address.
After you have successfully activated your account, login in to the survival fund portal and register your organisation with CAC Number, SMEDAN Number, Tax ID (optional) and the organisation's bank account details.
You will then receive an email that shows you the documents to prepare to enable you complete the payroll support application.
Once your application has been successfully verified, you are then eligible to get paid.
Watch the short video below for a quick overview of what Survival Fund Nigeria is all about.
I hope this post was helpful. Kindly share it with your friends on social media platforms.