Post-COVID Nigerian Schools Reopening Updates.
Nigerian schools resumption date update 2020. Latest school reopening news in Nigeria following the coronavirus shutdown and other school resumption in Nigeria guides can be seen daily on this page.
The Nigerian schools resumption news today on school resumption date in Nigeria 2020 has it that the Federal Ministry of Education has officially announced that Nigerian schools should reopen Monday, 12th October, 2020.
Below are the Nigerian schools reopening latest news in reverse chronological order.
School Resumption Update as at October 2020.
Minister of Education, Adamu Adamu, announces reopening date for all Unity Schools.
The minister of education, Adamu Adamu, speaking during a press briefing in Abuja, o=today Friday, said all schools in the country are to reopen from Monday, 12th October, 2020. He advised all institutions to obey and adhere to the guidelines for the reopening of schools, earlier announced by the presidential task force.
The federal government has approved October 11 as reopening date for all Unity Schools in Nigeria. Nigeria's Education Minister, Adamu Adamu, stated that students at home since the outbreak of COVID-19 pandemic can now complete their academic session which ends in December. "Schools that have not concluded their 2nd term examination should round off and commence 3rd term immediately which is expected to end in December," the minister added.
School Resumption Update as at September 2020.
Nigeria Government makes a U-turn, Now against reopening of schools.
Nigerian schools reopening when? With respect to latest update on how Universities, Polytechnics, Colleges of Education, and other schools in Nigeria will re-open after the covid-19 shutdown, the Government of Nigeria has said that it is against the reopening of schools at this time. This was made known by the Minister of State for Education, Chukwuemeka Nwajiuba, on September 10 at a meeting of the Presidential Task Force (PTF) on COVID-19 with the Northern Traditional Leaders Committee (NTLC) on National Primary Health. According to the minister;
"At the moment, we have not come to the point where we can say we are convinced that schools can manage themselves and reopen comfortably.

"Our teams have gone out and we will use the whole of this week and next week to do a proper evaluation.

"We are going round to see the level of compliance but most importantly we are waiting to get an update on all the facilities in every part of Nigeria. So, it is a work in progress."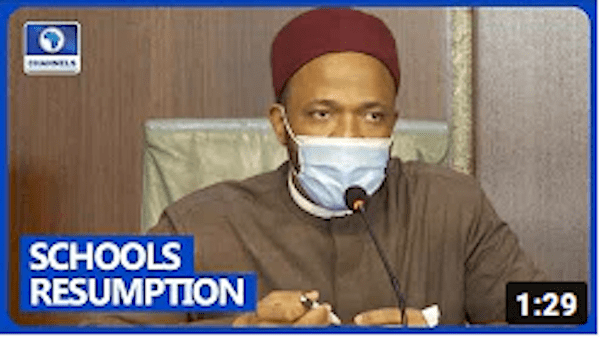 School resumption date in Imo State.
The Imo State government has deferred the resumption of schools initially scheduled for September till an ongoing Covid-19 testing programme in all the 27 local government areas of the state is concluded.
School resumption date in Bauchi State.
Bauchi State Commissioner of Education, Dr. Aliyu Tilde, Friday announced that both private and public schools will reopene on October 12. The commissioner however added that "No school shall reopen unless and until it meets the conditions stipulated. So, not all the schools may open on 12 October."
School resumption date in Adamawa State.
Governor Ahmadu Umaru Fintiri has approved the reopening of schools in Adamawa State from October 12. The governor has also directed school managers to observe the COVID-19 protocols and provide the necessary requirements needed for the safety of staff and students.
School resumption date in Edo State.
The Edo State government has rescheduled the resumption of primary and secondary schools across the state for the 2020/2021 academic session to Tuesday, October 6, 2020. The the new date will now apply as against the earlier announced date of Monday, September 28, 2020.
School resumption date in Gombe State.
The Gombe state government has approved the reopening of schools across the state. The state Commissioner of Education, Dr Habu Dahiru, stated that boarding schools across the state would resume on Oct. 4, while day schools, including primary, Islamiya, and Tsangaya Islamic schools, would commence classes Oct. 5.
School resumption date in Delta State.
The Delta State Government has approved September 28 for the reopening of primary and secondary schools in the state. According to the state Commissioner for Basic and Secondary Education, Mr Patrick Ukah, secondary school students in JSS 1, JSS 2, SSS 1 and SSS 2 that are yet to write the second term examination, will resume from Sept. 28 to Oct. 9 while pupils in primary four and five who are yet to complete the second term examination would resume on Oct. 6. He further announced that the resumption dates for the first term in the 2020/2021 academic session for pupils and students in primary and secondary schools would run from Oct. 12 to Dec. 18.
School resumption date in Abia State.
The Abia Government has announced that primary and secondary schools in the state are to resume on September 28 to complete the third term of the 2019/2020 academic session. According to the state's Commissioner for Information, Chief John Okiyi-Kalu, examination should hold from October 5 to October 16.
School resumption date in Enugu State.
The Enugu State Government has announced the phased re-opening of all primary and secondary schools in the state for 3rd term academic activities, on Monday, September 28, 2020. The state's Commissioner for Education, Uche Eze, while making the announcement stated that; "teachers/students/pupils are therefore requested to ensure that they abide by the approved guidelines on COVID-19", stressing that "no person will be allowed into any school without appropriate facemask/shield."
School resumption date in Ebonyi State.
State Government of Ebonyi State has announced October 5th 2020 as the Resumption Date for All Schools in the State. Commissioner for Education in the state, Onyebuchi Chima said primary, secondary and tertiary institutions are to resume on the said date but there will be staggering of classes in two sessions (morning 8 am- 12 pm and Afternoon 12:15 – 4.15 pm) in order to maintain social distancing.
School resumption date in Oyo State.
The Governor of Oyo State, Seyi Makinde, has ordered the resumption of tertiary institutions owned by the state government. According to a statement by the Commissioner for Education, Olasukanmi Olaleye, State owned Tertiary institutions and Private Institutions are expected to re-open for regular academic activities from Monday 28th September, 2020. Academic Boards and Senate of institutions are expected to fix their date and comply strictly with Covid 19 guidelines for the reopenings of schools. Mr Makinde also approved the new academic calendar for primary and secondary schools in the state. The resumption date for 2020/2021 academic Session for Public / Private Primary and Secondary Schools as announced by the State Ministry of Education, Science and Technology will commence on Monday, 21st September, 2020.
School resumption in Benue State.
Benue State Government has approved Monday, September 21, 2020, as reopening date for all Primary, Secondary and Tertiary institutions in the state. The Commissioner for Education, Prof. Dennis Ityavyar who made the disclosure Wednesday in Makurdi directed all public and private schools and institutions in the state to abide by the directive.
School resumption in Ekiti State.
The Ekiti state government has announced a phased reopening of primary and secondary schools, as well as tertiary institutions in the state. The announcement states that pupils in SSS2, Junior Secondary School 3 and Primary 6 are to resume on Monday 21 September, while those in SSS1, JSS2, Primary 4 and 5 will resume from September 28. Those in JSS1 and Primary  1 to 3 are to resume on October 19, 2020. Tertiary schools in the state may begin to reopen as from October 2 subject to their level of readiness and compliance with the established protocols.
School resumption date in AkwaIbom State.
Akwa Ibom State has fixed September 21, 2020, for the commencement of processes for the resumption of academic activities in the state-owned institutions of higher learning including its University, College of Education, and public Primary Schools. Similarly, 28 September has been fixed for the resumption of full academic activities in secondary schools while the state-owned Polytechnic will commence academic activities on the 5th of October, 2020.
School resumption date in Lagos State.
The Lagos State Government on Sunday, September 13, 2020, announced the resumption time table for schools in the state. In the announced dates, students in Junior Secondary School 3 (JSS3), and Senior Secondary School 2 (SSS2) in public schools will resume on September 21, 2020. All classes in the private secondary schools, and private primary schools are also expected to resume on September 21, 2020. However, all pre-primary school classes in public and private schools are to remain closed until further notice.
School resumption in Anambra State.
In a statement issued by Anambra state Permanent Secretary, Ministry of Basic Education, Nwabueze Nwankwo, primary and secondary schools in Anambra are to reopen on Monday, Sept.7, 2020. Details of the resumption showed that the third term of the 2019/2020 session would begin on Monday, September 14, and end on Friday, October 23, 2020, for both primary and secondary schools.
School Resumption Update as at August 2020.
No date yet for resumption of Nigerian schools – Minister.
Nigeria's Minister of State for Education, Chukwuemeka Nwajiuba, says no date has been fixed yet for full schools' resumption even though the federal government had continued to engage stakeholders.
Nigerian schools have been shut for over three months to prevent further spread of COVID-19 which has caused the death of over 1,000 people in the West African country.
However, students in exit classes, mainly JSS3 and SSS3 students, resumed earlier this month to commence their final examinations.
FG announces reopening of 104 unity schools tomorrow.
The Minister of State for Education, Emeka Nwajiuba, has announced that all the 104 Unity Colleges are ready to open for exit classes tomorrow, August 4, 2020. The Minister revealed the preparedness of the Unity Colleges during a Zoom meeting with the Commissioners of Education of the 36 States of the Federation on Monday morning.
School Resumption Update as at July 2020.
Below is the Nigerian schools reopening guidelines as published by the Ministry of Education.
SUMMARY OF THE GUIDELINESFOR REOPENING OF SCHOOLS.
The guidelines cover four thematic areas:
Staying home and learning safely.
Before schools and learning facilities reopen
Reopening process
Conditions for safety when learning facilities are reopened.
In each of these areas actions and responsibilities are identified for various stakeholders such as policy, financing, safe operations, learning, training, reaching the most marginalized, building back better, safety and hygiene, InfectionPrevention and Control, (IPC).
STAYING HOME AND LEARNING SAFELY
Ensuring continuity of learning is vital. Staying home and learning in a safe environment does not only address learners and educator's basic physical safety needs but also ensure that all learners and their families/ household members are safe. This means that all education environments must be inclusive irrespective of location, access to the internet, and socio-economic background. The following actions are recommended to safeguard the health, safety and security of learners accessing remote learning while ensuring that quality outcomes are obtainable:
Conduct online training that not only prepares teachers to teach in a way that safeguards the health, safety, and security of the learners but also enables them to facilitate learning using 21stcentury pedagogy based on Information and Communications Technology, (ICT).
Revise to strengthen current remote learning programs initially launched for stronger curriculum backing towards improving relevance and quality on a grade level to level basis.
Provide learners access to online resources materials online learning platforms, radio or television programs.
Children and young people should at home and wash their hands regularly, maintainpersonal hygiene and adhere to the Nigerian Centre for Disease Control, (NCDC), and World Health Organisation, (WHO), Covid-19 guidelines.
BEFORE SCHOOLS AND LEARNING FACILITIES REOPEN.
Federal and State Ministries of Education (SMoE) should decide when to reopen schools after due consultations with the Presidential Taskforce on COVID-19 (PTF) and other critical stakeholders taking into consideration key requirements listed in the guidelines. In each state, a functional School Health programme chaired by a state school health focus officer should be put in place while a school focal officer should be assigned in every school. Schools must also put in place systems that meet the following:
Safe distancing procedures.
Alternative learning models for safe distancing. The guideline proffers diverse alternative learning models tailored to the specific learning context that assures equity in learning.
Review existing policies, practices, and risk mitigation strategies in the use of schools for other purposes, such as distance learning centers, temporary shelters, isolation, quarantine and treatment centers, markets, voting centers, and others.
Develop and display at school's simple context-specific reference protocols on day to day actions to be operated in each school.
Conduct risk assessment with a view to understanding the gaps in the system that can increase the risk of transmission and make recommendations for addressing the gaps.
Safety and hygiene in all stages and phases of the school reopening process which promote behaviors that reduce spread, such as school commutes (to and from school travelling), safe distancing, frequent hand washing, and the use of facemasks.
Other guiding framework includes sensitization, financing, learning, and monitoring procedures.
THE REOPENING PROCESS.
Adjusting to the new school process requires much planning. A phased and gradual reopening of schools is advocated to minimize the risk of infections in schools and the resurgence of COVID-19 infections in the community. This involves measures including:
Training of teachers and other personnel on safety and hygiene measures.
Establishing a COVID-19 referral system.
Ensure availability of an ambulance and access to a testing/isolation/treatment centre including NCDC helpline and state government facilities.
Ensure adequate Water, Sanitation and Hygiene (WASH) facilities across the school premises.•De-congesting classrooms, hostels, worship centres and other spaces.
Encouraging use of open spaces forgathering and promoting outdoor activities.
Establish a staff/students committee for regular surveillance, monitoring and enforcement of COVID-19 guidelines.
ENSURING SAFETY WHEN SCHOOLS AND LEARNING FACILITIES REOPEN.
Preventive actions aresustained through regular monitoring of compliance in schools after reopening to ensure the safety and health of all learners, teachers, administrators, and other education personnel. Each school will comply with periodic Joint Risk Assessment for Safe Reopening of Schools and Learning Facilities Checklist under Annex A of the guidelines.Implementing these guidelines will require the collaborative support of all stakeholders to reopen schools and learning facilities. With the guidance offered in this document, schools should be able to put systems in place that allow them reopen in a way that protects learners, teachers, administrators, parents, and all stakeholders while providing high-quality education.
School Resumption Update as at June 2020.
The Nigerian Education Ministry has denied reports making the rounds on social media that schools will be reopened for academic activities on Monday, June 8 nationwide.
Spread the love - Share this with your friends