Check UNN Admission List for 2020/2021 Session Here.
Is unn admission list out for 2020/2021? Yes the unn admission list 2020/2021 for merit / primary admissions has been released. The University of Nigeria Nsukka UNN primary admission list for 2020/2021 academic session has been published  and now available online for the post utme candidates who participated in the recently held screening exams and admitted into her various first degree programmes.
All candidates admitted into the university through the UNN merit admission list 2020/2021 must accept the admission on the JAMB CAPS portal before proceeding with acceptance fee payment. Those who fail to accept their UNN admission on JAMB CAPS would not be issued JAMB admission letter and would be deemed as not admitted.
All asterisked candidates in the admission list below are advised to URGENTLY upload their O/Level results into JAMB Portal within one week using a JAMB approved CBT Centre, and forward evidence of upload and Admission Status in JAMB CAPS to the Admissions Office. Note that the asterisked candidates' admission cannot be processed until proper upload of O/Level results are done.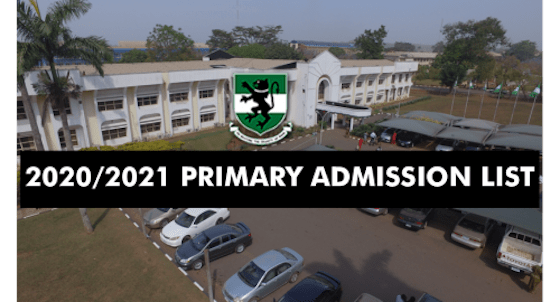 How To Check UNN Admission List 2020-2021:
All UNN aspirants are to check for their names and admission status from the unn primary admission list 2020/2021 document below. Be advised that the document can best be viewed with a computer or a pdf enabled device.
On the Pdf document, candidates are advised to search for their names or JAMB reg number for easy access. NOTE: All admitted candidates are to follow the instructions outlined below to accept admission
Candidates offered provisional admission are required to adopt the following guidelines to regularize their acceptance of the offer:
Visit the JAMB Portal and accept your admission on JAMB CAPS by clicking "Accept Admission". Candidates who fail to accept their admission on JAMB CAPS would not be issued JAMB Admission Letter and would b deemed as not admitted.
Then visit the University of Nigeria portal to pay acceptance. Click here for>> UNN Acceptance Fee payment procedure.
Proceed with other Unn fee payments and clearance registration as indicated on the University of Nigeria website.
NB:- Candidates should note that this admission is provisional. If at any time in future, including final year, it is discovered that any candidate does not possess the minimum university and the faculty/ departmental entry requirements for the course as prescribed by the Senate of the University, and published in JAMB Brochure, the offer of admission will be withdrawn.
For those not admitted yet, but wish to go for supplementary admissions via advertised courses with shortfalls, please click on the link below;
> UNN Shopping Form 2020/2021 for Supplementary Admissions.
Congratulations to all admitted students.
UNN INFO Team.
To stay updated with news updates from the University of Nigeria, Like our Facebook page: www.facebook.com/UnnInfo/ or join the discussions on our Facebook Group: https://www.facebook.com/groups/UnnInfoOfficial/.
Don't forget to Share this Info with your friends using the Facebook share buttons below.
Spread the love - Share this with your friends