Official UNN School Fees for 2018/2019 Session Published.
The Unn school fees 2018/ 19 has been released for Medicine, Pharmacy, Nursing New Students. The authorities of the University of Nigeria Nsukka (UNN) has published the 2018/2019 academic session fee schedule for all undergraduate students, both freshers and returning students.
The approved Unn fees is for First, Second, Others and Final year students. The school management also released the optional laptop acquisition payment plan for new students.
The tuition payment and other fees as published by the school authorities are contained in the Pdf documents below.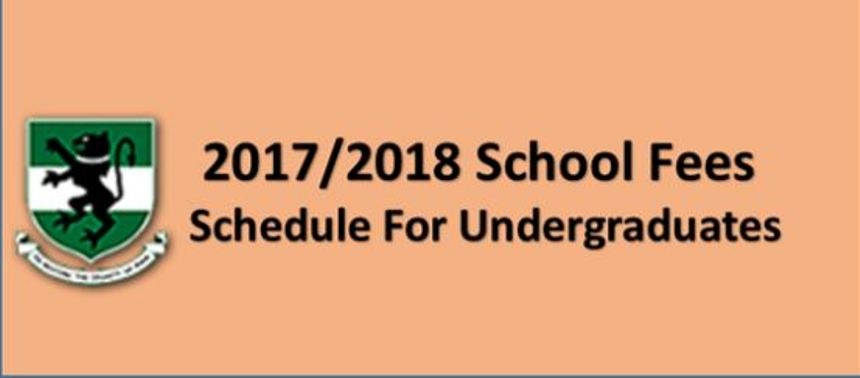 Be advised that the documents can best be viewed with a computer or a pdf enabled device.
UNN First Year Fee Schedule:
UNN Second Year Fee Schedule:
UNN Other Years' Fee Schedule:
UNN Final Year Fee Schedule:
HOSTEL ACCOMMODATION
NSUKKA CAMPUS HOSTELS:
MALE – N12,000.00
FEMALE – N15,000.00
NURSING MOTHERS – N20,000.00.
ENUGU CAMPUS HOSTELS
MALE HOSTEL – N15,000.00
FEMALE HOSTEL – N15,000.00
LINK ROOMS AND 2 MAN ROOMS – N18,000.00.
For Laptop Fees (Optional):
1. FULL PAYMENT 90,000.00
INSTALLMENT PAYMENT PLAN:
2(A). FIRST INSTALLMENT 30,000.00
2(B). SECOND INSTALLMENT 30,000.00
2(C). THIRD INSTALLMENT 30,000.00
2(D). FINAL INSTALLMENT 30,000.00
TOTAL PAYMENT FOR INSTALLMENT OPTION 120,000.00.
Best of Luck To You All…