SNEPCo Scholarship 2018 Undergraduate Scheme Now Available.
The Snepco scholarship 2018 application details has been announced. The Nigerian National Petroleum Corporation (NNPC) /Shell Nigeria Exploration and Production Company (SNEPCo) is opening up a National University Scholarship which aim is to promote academic excellence and improve the skills of young Nigerians.
The Shell Nigeria Exploration and Production Company (SNEPCo) pioneered Nigeria's deep-water oil and gas production at the Bonga field, a project that increased Nigeria's oil capacity by 10% when output began in 2005. At full output, Bonga has the potential to add more than 200,000 barrels of crude oil and 150 million standard cubic feet of gas to Nigeria's daily production.
The merit-based scholarship is open to FULL TIME SECOND YEAR undergraduates studying any of the approved Universities within Nigeria for 2018.
Click on>> https://www.nnpc-snepco-scholarship.shell.com/ to apply.
See application details below;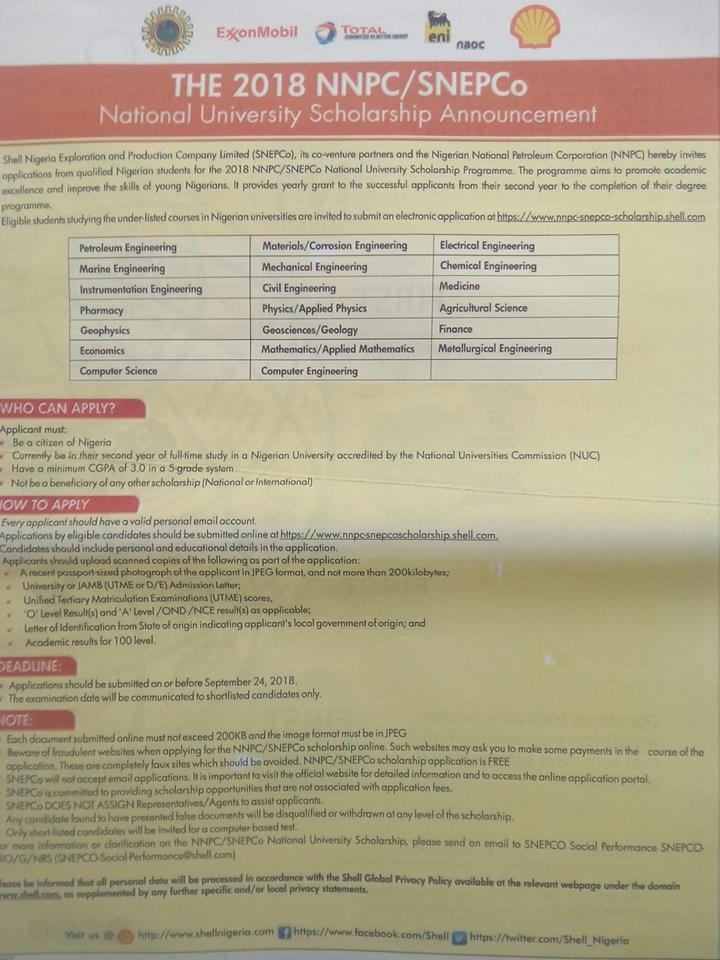 Applications should be submitted online before Monday 24th September, 2018. Only short listed candidates will be contacted.
The screening examination details would be communicated to shortlisted candidates.
A deep-water project off Nigeria's coast has brought much-needed jobs, training and business for local people. The Bonga project helped create the first generation of Nigerian oil and gas engineers with deep water experience and stimulated the growth of support industries. Watch Joey Uyanwuye, Project Manager for Bonga North West, explain more about the project.
For Shell, sustainability means providing essential energy for a growing population, while respecting people, their safety and the environment. Sustainability at Shell touches on all areas of our operations. We aim to deliver the energy needed for a growing population in a responsible way – respecting people, their safety and the environment.
In the coming decades, more and cleaner energy will be needed for economic development in the face of growing environmental pressures. SNEPCo is investing in low-carbon energy solutions and advanced technologies, such as those that increase energy efficiency and reduce emissions. We continue to contribute to the public dialogue on energy and climate policy. Yet, the scale of the global challenges that the world faces are too great for one company, or one sector, to resolve.