Apply NHEF Scholarship Essay Competition 2019 Edition.
The Nigeria Higher Education Foundation (NHEF) is pleased to announce the 5th Annual Scholarship Essay Competition. They are challenging students to think critically and strategically about change and how they can effect change in Nigeria.
The 2019 Essay Topic theme is Human Capital Development.
Question: "To anchor the economy over the long term, investments in infrastructure and competitiveness must go hand in hand with investments in people. People without roads, ports, and factories can't flourish. And roads, ports, and factories without skilled workers to build and manage them can't sustain an economy."
Bill Gates, Co-Founder & Technology Adviser, Microsoft Inc.
Using a case study or example, provide a solution(s) to address the challenges of human capital development in Nigeria.
ELIGIBILITY REQUIREMENTS:
All students enrolled in their penultimate year at any NHEF Partner University are qualified to participate in the essay contest.
NHEF Partner Universities include Ahmadu Bello University, Bayero University (Kano), University of Ibadan, University of Lagos, University of Nigeria (Nsukka), and University of Port Harcourt.
Students enrolled in their penultimate year are third-year undergraduates of a 4-year degree program or fourth-year undergraduates of a 5-year degree program. NHEF will verify enrollment of each contestant with the University Registrar.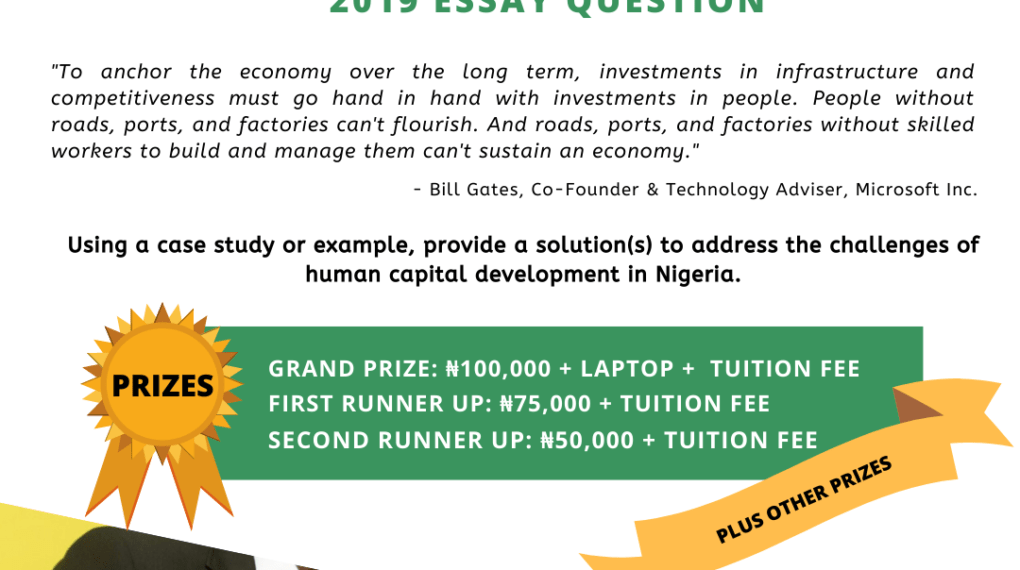 CONTEST PRIZES:
(i) Grand Prize winner of the 2019 NHEF Essay Competition will be awarded a ₦100,000, Laptop with a year of paid tuition
(ii) The First Runner-up will be awarded a cash prize of ₦75,000 plus tuition fee.
(iii) The Second Runner-up will be awarded ₦50,000 plus tuition fee.
ESSAY CRITERIA & SUBMISSION PROCEDURE:
All essays must comply with the following contest rules before submission:
Only one essay may be submitted per student;
No literary form other than an essay will be accepted;
The essay must reflect the contestant's ability to explore and discuss ideas and ethical concepts;
The essay must demonstrate the conduct of research and a sufficiently detailed summary;
The essay must be 2000 words maximum, double-spaced, (12pt Times New Roman), and numbered pages with one-inch margins excluding bibliography & title page;
Submitted essay must include a Title Page, a Bibliography and a scanned copy of the contestant's current student ID;
The essay title should be saved as 2019 NHEF Essay Competition – Name Of Applicant
The student's name, university, and registration ID# must appear in the header section of each page;
References in the essay should be included and clearly identified;
Entries must be submitted via e-mail to [email protected] in PDF format on or before 11:59 p.m. (WAT) on December 2, 2019..
NB:- Students are encouraged to study rules on how to avoid plagiarism, as the essays will be checked for intellectual authenticity.
TERMS & CONDITIONS: Scholarship and Award prizes will be permanently lost if the student:
– Does not attend an eligible NHEF Partner University;
– Winners will be announced via media channels (NHEF Facebook account, NHEF Instagram account, NHEF Twitter account, and NHEF Website);
– Winners will be contacted via communication method provided during application submission;
– The NHEF will make reasonable attempts to contact winners following announcements via media channels;
– Failure to claim prizes within 30 DAYS of announcement date, will automatically forfeit winnings;
– The student is found to have provided false or misleading information in claiming the award;
– The student fails to provide documentation to clarify an error or contradiction regarding his or her claim information that is discovered after the being selected;
– Unsatisfactory academic standing /Academic Probation will result in immediate forfeiture.
DISCLAIMER: Submitted essays will become the property of the NHEF. The NHEF may reprint the essays in its mediums and publications. Appropriate citations will be given to all the writers.
NOTE: Enrollment will be verified with the University's registrar.