Updated Npower Latest News Today on Payment, Batch C & Permanency
Latest Npower news today 2021 updates on Npower Nigeria. Here we will provide you with the latest news on npower recruitment as gathered from Npower official website and social media channels www.npower.gov.ng , Facebook: www.facebook.com/npowerng , Twitter: @npower_ng , Instagram: @npower_ng , Telegram: N-Power NG , Nairaland: NpowerNG , Youtube: N-Power NG , WhatsApp: 09096245802 , Medium: N-Power NG .
The Npower 2020 administrators have advised pre-selected applicants to follow at least any 3 of the above listed social media channels.
NPower 2020 Batch C Records Profile Update on NASIMS Portal (March, 2021).
The honorable minister of Humanitarian Affairs, Hajia Sadiya Umar Farouk, has flagged off the next stage of the npower batch c recruitment where applicants are required to update their records and take a test on a new nasims portal website. Click on the following link for full details; https://unn-edu.info/2021/03/nasims-id-verification-npower-update.html.
Latest on Final Selected Candidates List.
The Final List has been released already. Applicants are to visit the link below to check;
>> NPower Selected Applicants List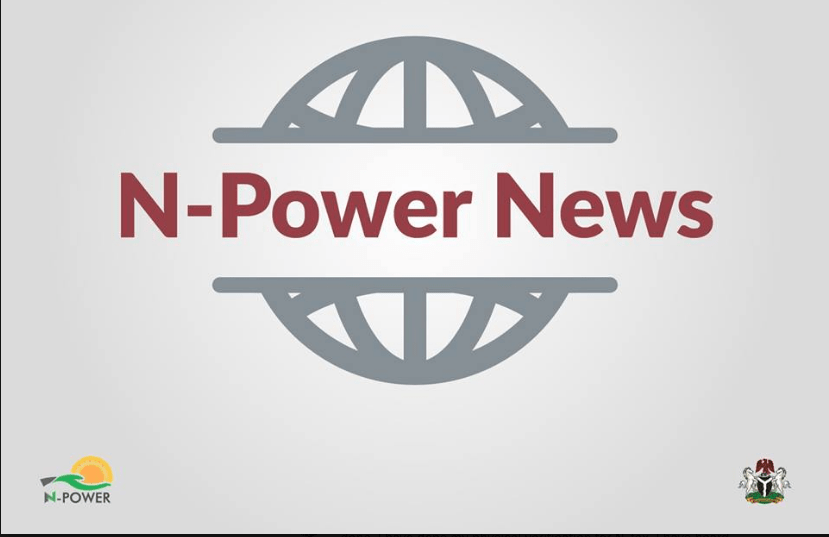 NPower latest news on Payment.
January: The federal government has given reasons why the monthly stipend given to N-Power beneficiaries has not been paid for the past two months. The payment delay is due to the current handing over process of the N-Power from the office of the Vice President to the Ministry of Humanitarian Affairs, Disaster Management and Social Development.
Latest on Device Collection for 2016 Beneficiaries.
The NPower device distritution for 2016 2nd batch beneficiaries has commenced.
The distribution of the 2nd batch of N-Power devices commenced in Lagos and will spread out to other states shortly. Please be patient, everyone will get their device. This applies ONLY to 2016 beneficiaries in the 2nd batch. More Info on the link below;
=> Npower Device Collection Date.
Latest on Npower Physical Verification Requirements – Dates – Venue.
Npower Physical Verification stage involves the process of physically verifying the Age, Gender, Residential Address and LGA, Academic Qualification, and NYSC completion of pre selected applicants.
Physical Verification will commence on Monday, December 4th and end Friday, December 15th, 2017 across Nigeria. In the week of the 4th, States will have different start dates. For example, State A may start on Monday and State B will start on Wednesday. The important thing to note is that all states will commence physical verification in the week of the 4th. See the image below for more info on documents required for Npower physical verification.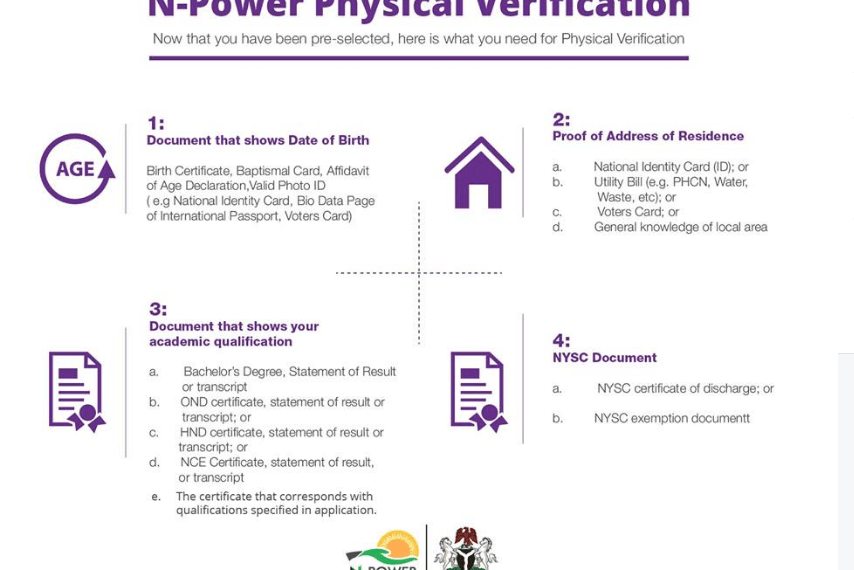 Additional things to note;
1. Your Physical Verification Centre is your Residential Local Government Area Secretariat.
2. You are NOT required to go along with your BVN slip for physical verification.
3. Follow instructions at the centre. Be orderly. Be courteous.
4. Everything stated here and in the image above apply to 2016 applicants who are on the waiting list. These applicants have already received an SMS that they are on the list.
5. Do NOT use information from blogs or unofficial N-Power Channels. Use information shared on our official N-Power pages.
6. Follow the instructions carefully
Pre-selected applicants who are already employed elsewhere have been advised Not to bother going for physical verification.
Recall that over 2.5 million persons applied for the Federal Government's N-Power Scheme, while 300,000 candidates were pre-selected out of the about 1.75 million applicants that eventually wrote the test. Follow the link below to check the successfully pre-selected candidates.
=> Npower List of Successfully Pre Selected Candidates.
The Npower administrator have also warned that existing beneficiaries who are refusing to regularly show up at work will be instantly dismissed when caught.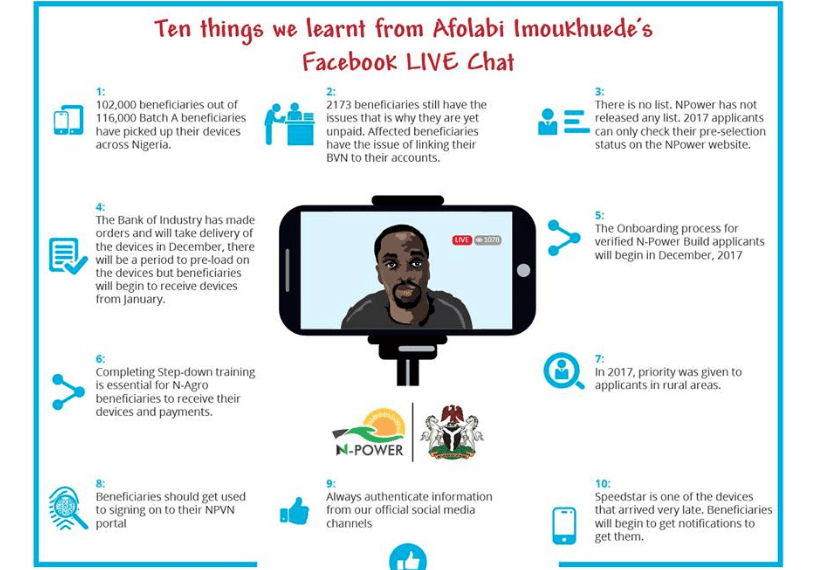 Spread the love - Share this with your friends