See NECO GCE Timetable for 2020 Exam Here.
The Neco GCE timetable 2020 can now be accessed below. The National Examination Council (NECO) has released the General Certificate Examination (GCE) timetable for private candidates scheduled to commence on Monday, 8th February, and end on Wednesday, 10th March 2021.
See the complete Neco Gce timetable 2020 below.
NECO GCE Time Table for 2020 Exam.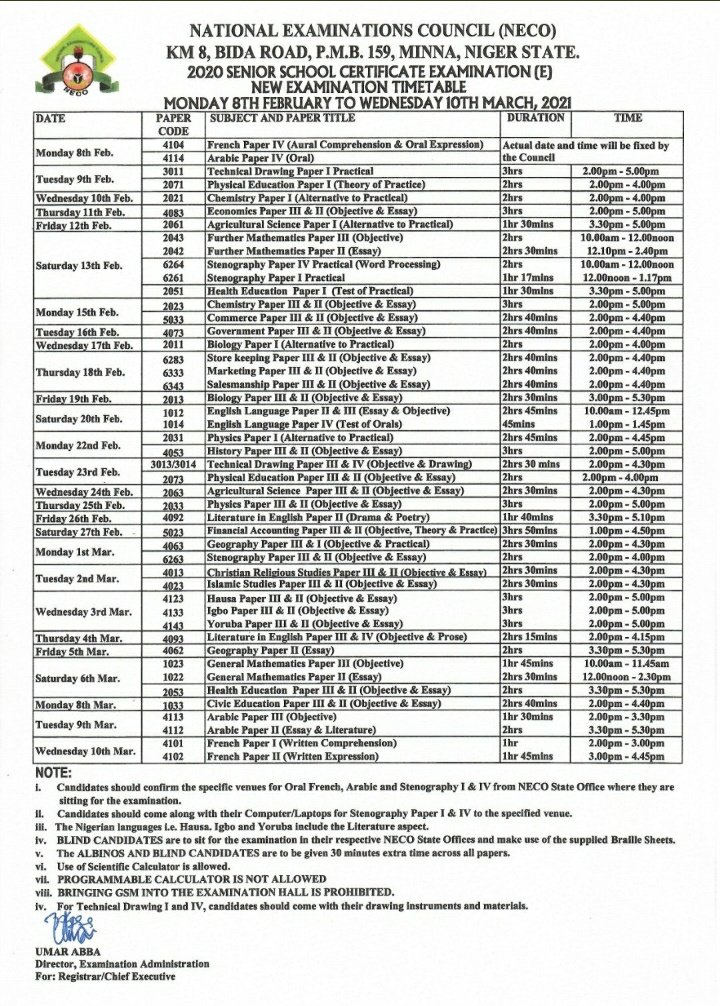 NOTE:
Candidates should confirm the specific Venues for Oral French, Arabic, and Stenography I & IV from NECO State Office where they are sitting for the examination.
Candidates should come along with their Computer/Laptops for Stenography Paper I &IV to the specified venue.
The Nigerian languages i.e. Hausa. Igbo and Yoruba include the Literature aspect.
BLIND CANDIDATES are to sit for the examination in their respective NECO State Offices and make use of the supplied Braille Sheet.
The ALBINOS AND BLIND CANDIDATES are to be given 30 minutes extra time across all papers.
Use of a Scientific Calculator is allowed.
PROGRAMMABLE CALCULATOR IS NOT ALLOWED.
BRINGING GSM INTO THE EXAMINATION HALL IS PROHIBITED.
For Technical Drawing I and IV, Candidates should come with their drawing instruments and materials.
Don't Miss out of any Important  Info, Always Be the First to Know! Join the Official UnnInfo Facebook Group now => https://facebook.com/groups/UnnInfoOfficial/
Don't forget to share with your friends…
Spread the love - Share this with your friends