Nigerian Army Recruitment 2020.
Nigeria army recruitment form 2020 out. Apply here for the Nigerian army recruitment 2020 80th regular recruits intake 80rri for both tradesmen / women and Non-tradesmen / women.
Interested candidates and the general public are informed that online registration for 80 regular recruits intake for both trades/non tradesmen and women of the Nigerian Army has commenced.
Nigeria Army Recruitment Eligibility.
Here are the basic qualification for the 80th rri Nigerian army recruitment 2020;
Applicants must be a Nigerian citizen by birth and possess a National Identity Card.
Applicants must be medically and physically fit.
Applicants must be free from any criminal conviction.
Applicants must possess at least a minimum of 4 credits in not more than 2 sittings in WASSCE/ GCE/ NECO/ NABTEB at O Level including English Language.
In addition to the above qualification, those applying for Tradesmen/women must also possess Trades Test/City and Guild Certificate. Details are available on the website.
Be between the ages of 18 – 22 years for non-tradesmen/women while tradesmen/women must be between the ages of 28 – 35 years.
Not be less than 1.68 metres and 1.62 metres tall for male and female candidates
Knowledge of additional Nigerian language other than mothers tongue is an added advantage.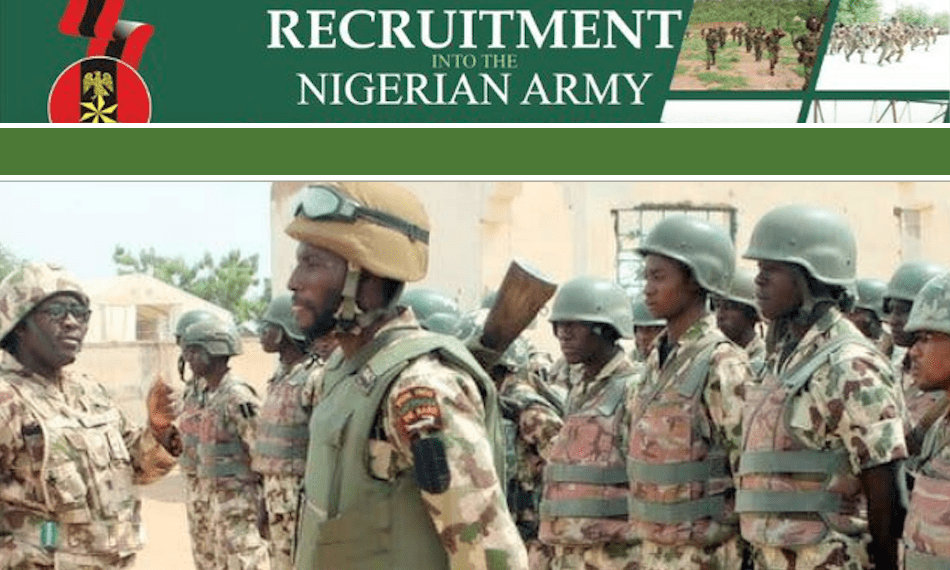 How To Apply For Nigerian Army Recruitment 80RRI.
To apply for Nigeria army recruitment 2020, follow the steps below to register for the Nigerian Army 80th regular recruitment intake:
Visit the Nigerian army recruitment portal website.
Create a user account on the website and login with your username and password.
Complete the application form for 80rri carefully, then submit online and print a copy.
Also print and complete the Guarantor Form as appropriate.
Be sure to bring your copies of the application and guarantor forms to the designated state recruitment centres.
Closing Date.
The Nigeria army recruitment form closing date for 80th rri is only a few weeks after application commenced 14th September 2020.
Nigeria Army Educational Requirements.
Listed on the link below are the educational requirements for entry into the Nigerian Army as Non-Tradesmen or Tradesmen.
Visit https://unn-edu.info/2018/01/join-nigerian-army.html and read thoroughly.
Interested Nigerian Army recruitment candidates should please note the following instructions:
There will be no Pre-selection Computer Based Test.
No special centre for recruitment.
There will no Zonal Screening Exercise.
All screening of potential recruits will be done at the candidates' respective state of origin.
Candidates are also expected to adhere to COVID-19 protocols which include; regular washing of hands, use of face masks and observing physical distance.
Any candidates who falsifies or forges his/her results and discovered even during training at Deport NA would be withdrawn.
All candidates are to report to the Screening Centres with their bank Verification Number BVN Printout.
Candidates are advised in their own interest not to give any form of gratification or inducement to any person or group of persons to assist them in the recruitment exercise.
You are advised to carefully read the instructions on the website.
Name of shortlisted candidates for screening would be released on the website.
Shortlisted candidates are to report to their respective states of origin for the screening exercise on 23 November 2020 – 6 December 2020.
Successful candidates would be transported to Deport NA for documentation and training from 9 Feb 2019.
ALSO READ =>Nigerian Army DSSC and SSC Recruitment.
READ ALSO => Nigerian Army Recruitment for Regular Recruits Intake RRI.
Be sure to share this info with your friends on social media using the SHARE buttons below.
Spread the love - Share this with your friends