Nigerian Army Recruitment 2018 Latest News Here.
Latest news on Nigerian army recruitment 2018 has it that the 77RRI recruitment screening earlier scheduled for March 9th has beebn postponed till further notice.
Qualified applicants will be shortlisted for a pre-screening examination at applicant's selected screening exam centre soon.
Registration to join the Nigerian Army 75 Regular Recruits officially closed on Saturday, 10th February, 2018. All applicants shortlisted for the Pre-Screening Examination will have their application status updated on the portal with an Invite Status.
Information from a known observer of the Nigerian Army recruitement has it that the list of shortlisted candidates 77RRI pre-screening exam 2018 will soon be uploaded. To check your recruitement status, click here Nigerian Army Shortlisted Candidates 77RRI.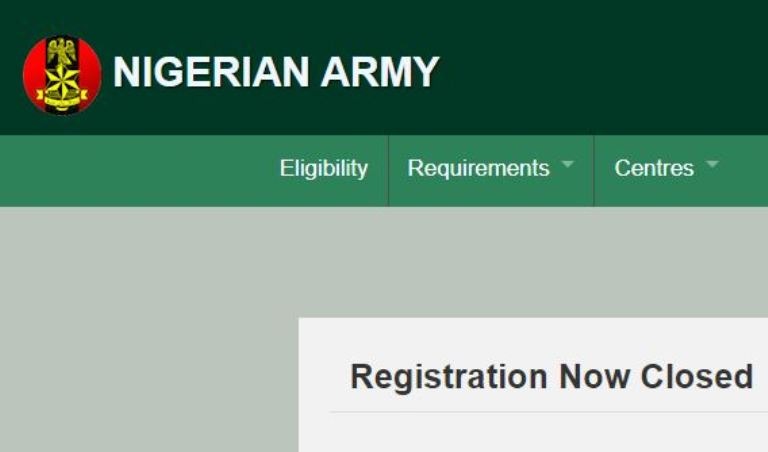 Applications for 77 RRI Nigerian army recruitment which commenced last year has ended and candidates are to ensure that they printed the documents generated and duly sign their guarantor forms.
Shortlisted applicants are to visit the designated examination and recruitment centres with the printed documents during pre-screening.
Update: The attention of the Nigerian Army has been drawn to speculations and rumours regarding the number and names of the senior Army officers affected in the recent retirement exercise. This is worrisome as some individuals and media houses went to the ridiculous extent of publishing outrageous figures and names of serving officers as being retired. This is unethical and unfair.
It is therefore necessary to inform the public to please disregard such inaccurate lists. We wish to state that only 38 senior officers were affected by the retirement exercise.
For the avoidance of doubt the following is the statistics of the officers retired compulsorily; 9 Major Generals, 10 Brigadier Generals, 7 Colonels, 11 Lieutenant Colonels and a Major.