LASU Data Processing Unit DPU now Integrated Data Centre LIDC.
The Lasu dpu for external systems and full time undergraduate students dpu.lasu.edu.ng has now evolved into the LASU Integrated Data Centre (Lasu idc centre) also reffered to as lasu students portal available online at  https://lidc.lasu.edu.ng.
The LASU Integrated Data Centre lasu lidc recently evolved from the Data Processing Unit lasudpu, which had since its inauguration in 2005 been at the forefront of processing full time students' and external systems' academic results.
The lasu dpu portal https://dpu.lasu.edu.ng was used to address issues of examinations and results of the LASU External Systems LASUES and many other issues.
On the new LASU Idc, students will be able to register for admission screening exam, print admission letter, process payment of school fees and print receipts, access online lasu student profile, carry out bio data registration, update information on the student profile, register courses and reprint course registration forms, and not forgetting the printing of examination results etc. It has also availed lecturers the opportunity to upload and access students academic profile from any part of the world.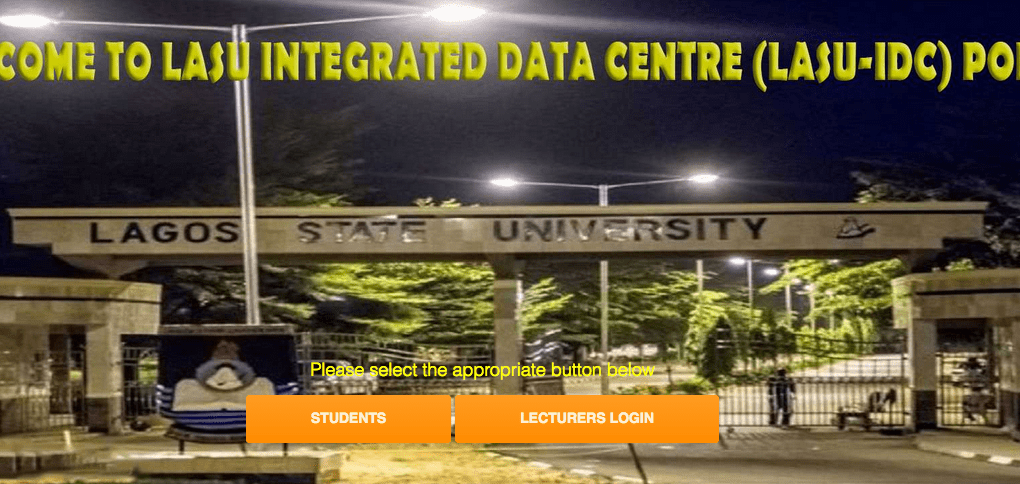 More about the LASU DPU.
Further information on the now older Data Processing Unit (DPU) as obtained from the school website shows that;
The Unit was commissioned in rain semester 2005/2006 academic session with a mandate to electronically process academic results of full time undergraduate, with a view to harmonise the academic result processes within a stipulated time frame. The new unit headed by Dr. Moses A. Akanbi swung into action and produced an excel template for the initial computation processes.
The Unit since its inauguration then have been at the forefront of processing full time students' academic results, generation of transcripts request, capturing of old student's profile (1984-1999), support for lecturers and students, results Database management, Special project (senate document archiving, Postgraduate Result processing, and recently Sandwich program result processing) to mention but few.
Overtime, the Unit has evolved, transiting from electronic computation using Microsoft excel macros and Microsoft access applications to a more robust e-process platform.
This provides more accuracy and minimal error in computation of fulltime students' academic results in a seamless, real time and dynamic manner using current global ICT tools.
Our mission is to continually avail lecturers and students' real time access and support in uploading and accessing students' academic profile from any part of the world.
The academic profile of any full time student can be accessed in real time online from   https://dpu.lasu.edu.ng
The DPU team provides
24 hours accessible website for both lecturers and students
A platform that can be reached from any part of the world
Well computerised academic profile
Academic transcripts production at the touch of a button
24/7 Support for both lecturers and students using the DPU platform
Special projects for other DPU within the system and the senate of the university
Processing of sandwich programme and other allied programme within the system.
The Lagos State University, by extension the Data Processing Unit is a clear leader in making available students' academic records online and real time, with a friendly disposition to alleviating lecturers and students' problems whenever such arose.
The young and dynamic DPU staff are well positioned to provide answers whenever needed.
The major advantage of the e-process developed at DPU allows students to be promptly graduated and presented at the floor of the senate for approval and summarily mobilized for NYSC all in a record time, a feat that is unprecedented in Nigeria. For instance, the graduating student of 2014/2015 academic session finished examinations in early January 2016 and the results were processed, approved by Senate same January and mobilized for NYSC in March 2016.
Frequently asked Questions and Answers.
My Profile Can Not Be Generated?
Ensure you type your Matriculation Number(Fulltime Undergarduate) in the provided box correctly. If the problem persist, please send an email to our email address, stating your complaint,and include your Full Name, Matriculation Number and Department.
Why is a course I did not register for appearing on my profile as an outstanding?
Confirm the actual status of the course at your department and report the case to your Head of Department/Level Adviser. If a Course is Compulsory and you did not register for it OR if a course is Required and you have not attempted it before, it will show as an outstanding course on you profile, even if you did not register for it.
Why is an elective course showing as an outstanding on my profile?
Confirm the actual status of the course at your department and report the case to your Head of Department/Level Adviser.
Why do I have under-registration on my profile?
Under-registration will show on your profile if you did not register up to the minimum course unit required per semester. The minimum course unit that you should register is 18units per Semester.
Why is withdrawn showing on my profile?
A student shall be "Withdrawn" if The CGPA is less than 1.5 in two (2) consecutive semesters AND/OR Total Number of Units Passed (TNUP) is less than cumulative of 24 per session.
Why is warning showing on my profile?
A student shall be placed on "Warning" if His Cumulative Grade Point Average (CGPA) is less than 1.5 in a semester.
Why do I have over registration on my profile?
Please report the issue to the Head of Department / Level Adviser for advise.