2018 WAEC Agriculture Practical Specimen is Out – See WAEC Agricultural Science Practical Answers.
The West African Examination Council May/June Agric alternative to practical for General Certificate Examination paper will hold on Thursday, 26th April, 2018.
The Waec agriculture practical exam will start from 08:30am to 10:30am (1st Set) and 11:00am to 01:00pm. (2nd Set)
In this post we are giving samples of the Agric Specimens' list materials that was used in the Agricultural Science Practical Examination past questions that are likely to be repeated for this year.
Related: Waec Agric Questions & Answers for 2018
This is for preparation purposes for candidates writing the examination.
WAEC Agric Practical Specimen:
In the past years, specimens like the once listed below were made available for candidates for study purposes and dissection. Drawing is also included.
1 (a) Fig. 2.1 is a diagram of the digestive system of a pig (non-ruminant).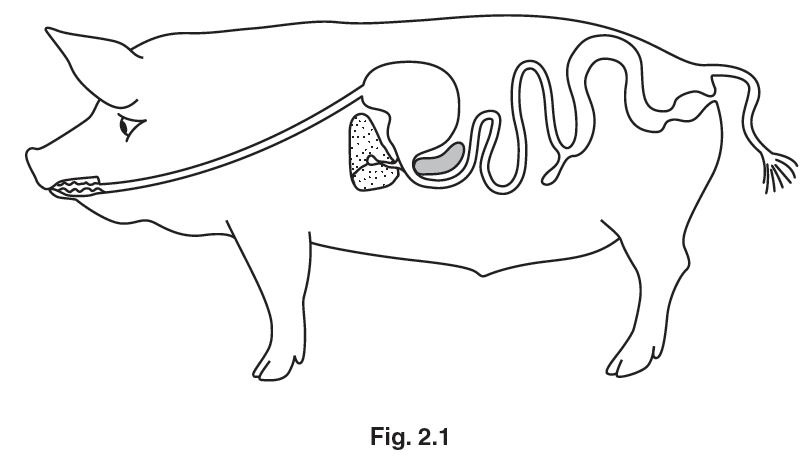 Label on Fig. 2.1, using a line and the letters shown, the following:
S, where digestion begins
C, the caecum
M, the position of a sphincter muscle [3]
(b) (i) Name an internal parasite.
Label on Fig. 2.1, with a P, where the parasite you named would be found in the pig.
(ii) Suggest a symptom that may indicate the pig was infected with this parasite.
(iii) Suggest how to prevent the pig from being infected with this parasite.
Also questions on the following specimens can come in the form of alternative to practical;
Practical specimen 1: Bone
Practical Specimen 2: Horn
Practical specimen 3: Hoof
Practical specimen 5: Goat weed
Practical Specimen 6: Spear grass
Practical specimen 7: Elephant grass
Practical specimen 8: Pig weed.
The details of the 2017 WAEC Agric practical drawings and dissection will be made available to you candidates as soon as it is released.
Keep following this page and make sure you bookmark this site for reference purposes.