Check Nigerian Navy Shortlisted Candidates for 2017 Recruitment Aptitude Test List Here.
The Nigerian Navy has informed candidates that they are to write the aptitude test for the 2017 Recruitment Exercise on 12th August 2017 in the states they selected during registration AND NOT their states of origin.
To see the Nigerian Navy DSSC List of Shortlisted Candidates for 2017, visit the link below;
>> https://unn-edu.info/2017/11/nigerian-navy-aptitude-test-list.html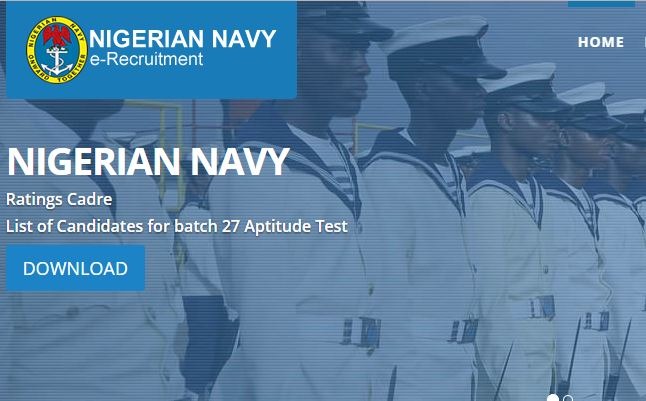 INSTRUCTIONS FOR THE APTITUDE TEST FOR THE 2017 NIGERIAN NAVY RECRUITMENT EXERCISE:
Applicants must come to the recruitment centres with the following documents:
– Photocopies of Birth Certificate or Age Declaration.
– Photocopies of Credentials.
– Duly completed identification form to be signed by Chairman or Secretary of the candidate's LGA or by an officer of the rank of Commander, Chief Superintendent of Police (CSP) or Equivalent and above from candidate's State of Origin.
– Duly completed Parent Consent form to be signed by Applicant's Parent or Guardian.
– Four passport photographs duly signed and stamped by any of the persons mentioned in Sub-Paragraph (c) above.
Candidates are advised to bring the scratch cards of their NECO and WAEC results to the recruitment centres.
Applicants are to bring the following to the Aptitude Test Centres:
Parents /Guardian Consent Form.
Local Government Attestation Card.
Acknowledgment Form.
Photocopies of Certificates including NYSC Discharge Certificate.
The completed application form is to be submitted online. Accordingly, candidates are advised to check below to confirm their centres / groups / time in the states they selected to write the test.
Over the years, Nigerian Navy was confronted with problems of post retirement homes for its personnel. This necessitated the muting of the idea amongst others, for the establishment of a housing scheme.
In 2005, the Nigerian Navy Post Service Housing Scheme (NNPSHS) was established to tackle the housing issues experienced by its personnel.