2017 ASUU Strike – University Staff Ordered to Shut down Academic Activities Nationwide.
An Indefinite ASUU strike has been declared by the leadership of the Academic staff Union of Universities.
While calling for the industrial action in a document titled "Strike Bulletin No.1", ASUU President, Biodun Ogunyemi, stated that the lecturers took the decision to declare the strike after deliberations at its National Executive Council (NEC) meeting held at the University of Abuja over the weekend.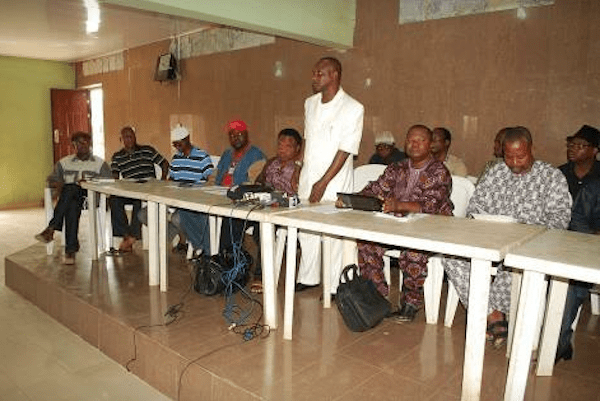 In the official ASUU document signed by the ASUU president on the 12th of August and released to the press today, the union stated as follows;
"Of all the items contained in the MoU, only the N200b out of a total of N1.3tr of the Public Universities Revitalisation (Needs Assessment) fund was released.
"The union also embarked on a one week warning strike in November 2016 to press for the implementation of 2013 MoU. However government did not implement the understanding reach between the union and Federal Government base on the intervention by the leadership of Senate of the Federal Republic of Nigeria.
"The union has also met with the 2009 Agreement Implementation Monitoring Committee, IMC, and had written several letters press releases and communiqués on the outstanding issues to no avail.
"The National Executive Council, NEC, of ASUU then met at the University of Abuja on August 12 2017 to consider the result of a referendum from all branches in a bid to ascertain ways of convincing government to implement outstanding aspects of the 2009 and the MoU of 2013".
The Unions leadership went ahead order members in all Universities to boycot all academic related activities indifinitely. See the full press release below.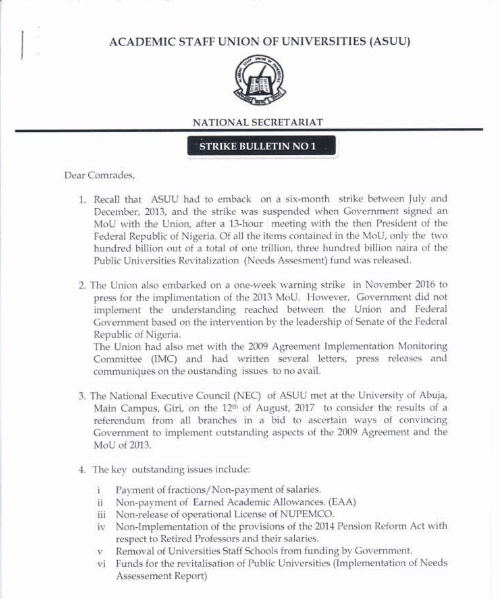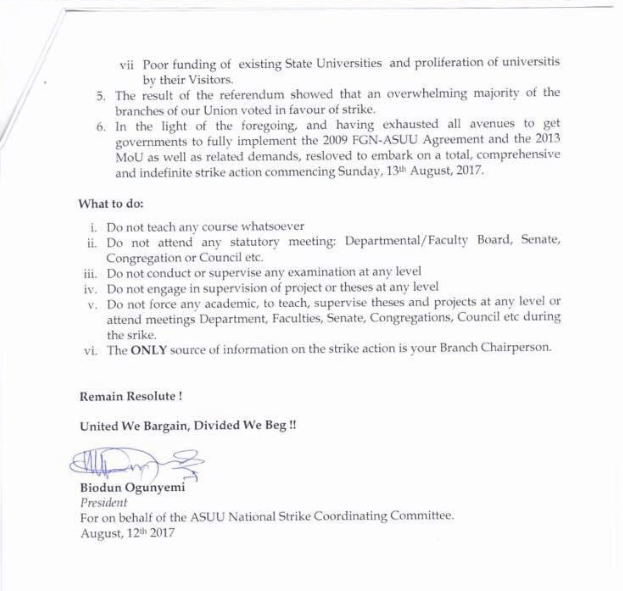 What do you think about Asuu strike in the year 2017 ? Share your thoughts via the comment box below.