UNN Direct Entry 2020 Updates.
Lately, we have been inundated with questions and complaints from 2020 UNN direct entry admission aspirants. Some of their many anxious questions are a result of the uncertainties surrounding this year's admission process. So, even when we have repeatedly told DE candidates here and on Facebook that nothing has been officially said by the school about this year's screening exercise, we do not necessary blame the candidates for their many repeated and sometimes unnecessary questions.
We therefore decided to create this post to serve as a one-stop Info centre for all information related to 2020/2021 Unn Direct Entry Admission. We will update this post as often as we get any new information. So, if you are a direct entry aspirant, be sure to bookmark this page and check back as often as possible to stay updated.
Now, to answer some of the questions being repeatedly asked, we wish to restate the fact that, at the time of this publication, the University of Nigeria Nsukka has not announced any date or schedule for this year's Direct Entry admission screening exercise. As soon as official information on the 2020/21 UNN DE screening is available, we will immediately publish it here on UnnInfo.
On the question of the method to be adopted by the University for this year's DE screening – The school appears to have adopted the Point System introduced by JAMB in the grading of 2020 UTME candidates who applied for the recently concluded online screening. The sad fact however is, if the Point system is eventually used in the admission list to be released by the school, many brilliant students who wrote the SSCE on their own and in previous years will surely miss out of the list. But that will be a discussion for another day.
For Direct Entry candidates, we are not sure about the method the school will adopt for your screening. The school may use (i) the older Post Utme style screening method or (ii) Oral Interview or (iii) Online screening of your qualifying certificates. So Prepare your mind for just about anything.
If you have any other question, please ask via the comment box at the end of this post.
UNN Direct Entry Requirement.
As part of UNN direct entry admission requirements, candidates are expected to first register with JAMB. Check Jamb brochure for other minimum qualification requirements.
UNN Direct Entry Past Questions.
To get you prepared for the eventuality of screening exam being conducted, a special handbook has been prepared for UNN aspirants as a revision tool for the screening exam. Click on the link below to get it;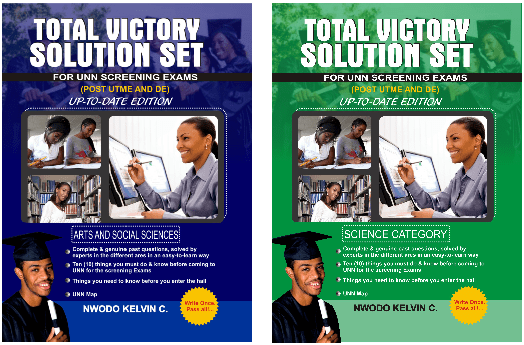 >>Total Victory Solution Set<<
Best of Luck To all 2016 UNN DE Candidates,
The UNN INFO Team.
Don't Miss Out of Any Important  Info, Always Be the First to Know! Join the Official UnnInfo Facebook Group now => https://facebook.com/groups/UnnInfoOfficial/.