UNN Post UTME & DE Past Questions and Answers Now Available for Science, Arts and Social Sciences.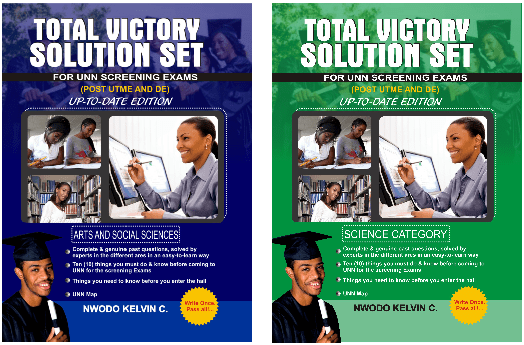 The UNN Post UTME past questions and answers has been made available for all candidates seeking admission into the University of Nigeria Nsukka here. As a Jambyte who is looking forward to gaining admission to study your course of choice at the University of Nigeria, one of the biggest mistake you would make is to enter the hall for UNN Post-UTME or Direct Entry (DE) screening without having an idea of the nature of the previous years questions and answers plus how the syllabus was covered.
Truth be told, UNN Post UTME Past Questions and Answers (TOTAL VICTORY) may not be compulsory, but you'll have yourself to blame if you go into the hall without at least taking a look at this booklet that was painstakingly prepared (even if it means having to borrow a copy from a friend). Note that the book is for UTME and Direct Entry candidates.
RELATED: UNN Post UTME Admission Form 2019/2020 Update- Click Here
Total Victory Solution Set is not just a booklet, it is the best and most comprehensively compiled UNN post UTME past questions with accurate solutions compiled by Dr. Kelvin Nwodo for candidates preparing for the upcoming University of Nigeria's Screening Exams. The solution set is specially prepared for Jambites writing UNN post UTME, and those coming to Nsukka for the first time. The simple guides and easy-to-learn approach employed by the author in preparing this book clearly makes it the best preparatory material any UNN aspirant can have access to at any time. The Unn post utme past questions book is also quite affordable.
This masterpiece solution set features a thorough and detailed step by step solutions and answers from the Use of English to the core arts and sciences. This is surely the best preparatory tool that will help boost your post UTME score thereby increase your chances at getting admitted this year. Worthy of note is the fact that sometimes questions are repeated.
However, it is also important we remind you that Total Victory Solution Set that contains UNN post Utme past questions is not meant to take the place of your textbooks, it is but an additional tool that would help actualize your dream of coming to the University of Nigeria to study your course of choice.
FEATURES OF THE BOOK (TVSS):
The Solution Set is in two categories, each having about eight (8) subjects in it;
1) SCIENCE CATEGORY (The Use of English, Mathematics, Physics, Chemistry, Biology, Geography, Economics and Agricultural Science)
2) ARTS AND SOCIAL SCIENCES CATEGORY (The Use of English, Literature in English, C.R.K., Government, Economics, Commerce and Mathematics).

OTHER FEATURES: As we promised earlier to give you not just an up to date original UNN Post UTME past questions with solutions but a complete guide that will see you through your Post UTME quest, we painstakingly researched and added every information you need to have as a prospective student of the University of Nigeria to this book under a topic;
*TEN (10) THINGS YOU MUST DO AND KNOW BEFORE COMING TO NSUKKA FOR UNN POST UTME
*THINGS YOU NEED TO KNOW BEFORE YOU ENTER THE HALL
Another very important feature added to the book is a *School map of the Nsukka Campus. The map will help you locate/ navigate easily around the campus.
Be sure to get this book now! Don't wait till it's just few days to the exam!! Don't wait till it's too late!!!
HOW MUCH DOES IT COST? N800 ONLY (in Enugu State) at most, N1,500 ONLY (outside Enugu State) Contact EKENE on 08064382288 for inquiries and questions.
NATIONWIDE DISTRIBUTORS:
| | |
| --- | --- |
| LOCATION | CONTACT/ ADDRESS |
| NSUKKA-1 | Samuel – 08030963383 |
| LAGOS | Chima – 08064772517 |
| LAGOS-2 | Mrs. Njideka [LASU, Yanoba] – 07037992568 |
| LAGOS-3 | |
| ONITSHA | Dr. Ekene – 08067254461 |
| ABAKILIKI | Contact Uche (EBSU) – 08030840247 |
| ENUGU-1 | Chinedu – 07065409469 |
| AKWA-IBOM | IG (UNIUYO) – 08130450229 |
| BAUCHI | Onyeka – 08168391510 |
| ABA | Sammy (Ariara) – 07032096140 |
| OWERRI | Odili – 08168288815 |
| PH | Tochi – 07064614301 |
| KADUNA | Eunice – 08132191330 |
| JOS | Rakubu Road – 08148529595 |
| ABUJA | Ms. Chioma 09036107424 |
| NNEWI | |
| DELTA | Patric – 08064230118 |
| YOLA | Obinna – 08066166618 |
| MAIDUGURI | Chison [B/H Giwa Baracks] – 08137040432 |
| IHIALA | Obiora – 08067683610 |
| | |
| | |
| OTHERS | Coming soon*** |
| | |
| | |
| | |
| | |
| | |
| | |
| | |
| | |
| | |
| | |
| | |
| | |
| | |
| | |
| | |
| | |
| | |
| | |
| | |
| | |
| | |
| | |
| | |
| | |
| | |
| | |
| | |
We will be adding more sales points in other parts of the Country.
WAYBILL Option: If you're in a state where we are yet to cover, you can request for the book to be sent via waybill.
Steps to follow if you want the book to be sent through courier (waybill)
1) Inquire for the transport company of your choice that comes from Nsukka or Enugu to your state of residence.
2) Contact Mr. Ekene on 08064382288 and place your order.
3) You'll be required to pay a refundable fee of N2,000 (depending on your location). This amount covers for both the waybill and the book. After which you'll send the details of the payment (Name n Teller number) to Mr. Ekene.
If the 3 steps above is probably followed, within 24 hours you'll get the book (depending on your location).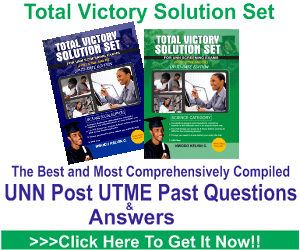 NOTE:
PLEASE MAKE SURE IT IS TOTAL VICTORY SOLUTION SET THAT IS CLEARLY AND NEATLY WRITTEN ON THE COVER PAGE OF THE BOOK YOU ARE PAYING FOR, JUST LIKE IT APPEARED ON THE PICTURE ABOVE.
Kindly send a mail to totalvictory@unn-edu.info If YOU DON"T LIKE THE WAY YOU"RE TREATED BY ANY OF OUR AGENTS.
For further enquiries, CONTACT: EKENE on 08064382288 or simply send a mail to totalvictory@unn-edu.info
=> If you will like to help market this book, send a mail to the e-mail address above.
SHARE THIS with your Friends using the SHARE BUTTONS below;