UNIVERSITY EDUCATION SHOULD GO TO HELL!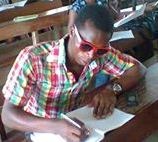 Ozoemena stood in front of the mirror in the one room apartment he rented four years ago. He examined his beard which appears to be growing rapidly as his mind raced through the recent happening in his life.
Life had been very hard for him in the village and, as a result of that he came to Enugu in a hurry. Like most people, he did not come to the city to look for greener pastures; he came to see if he would raise a little money so that he could pursue his academic dreams. His days in the village were characterized by dreams_____ yes, he incessantly dreamt of being a medical doctor. It was so real that in the last dream he had four years ago, he saw himself in the theatre operating on a patient. On the early hours of that morning he woke up sweating like a goat that had just finished running a marathon.
Ozoemena came to Enugu a week after his last dream and found a job a fortnight thereafter. Two years after that, from the little money he made from working as a waiter in a popular hotel in the city, he rented a small apartment at a slummy area in Abakpa and moved out of the one room apartment he shared with a friend. This was the beginning of Ozoemena's pursuit of the main reason he came to the city. He registered for extramural lesson at Ogba_____ a place that was very close to Penoks bus stops; just twenty five minutes' walk from the ghetto he calls his neighbourhood. As a student in Ogba, Ozoemena made friend with people who are enthusiastic about their education; young men and women who probably are still in secondary school or just left school and have written JAMB once or twice. At that notorious lesson centre, they had two major groups_____ those who are still in school and those who have left secondary school and have written JAMB for a number of times that is only known by the individual in question. Ozoemena did not fit into any of that group because unlike others, he finished secondary school in his village two years ago but never taken JAMB. He did not take JAMB exam the year after his WASSCE because he lost his father to a mysterious sickness in the village. In fact, the young Ozoemena was still mourning the death of his father when WAEC result was released. Losing his father who was a farmer was so painful that he did not even celebrate the fact that he cleared his papers.
Although Ozoemena was one quiet kid who did not have a girl friend, and could not be likened to most boys at Ogba lesson centre, he joined the group of boys that were fondly referred to as having been jammed by JAMB. This group was congregated by people who have written the exam more than once. He prepared himself the best way he could, combining both going for lesson in the afternoon and keeping up with his job as a waiter in the evening.
Time flew like it knows how to do, and Ozoemena wrote his first JAMB. When the result came out, what he saw was better kept in his heart than shared with anyone. Although it cannot be said conclusively that Ozoemena performed woefully in his first JAMB but what he scored at both JAMB and Post UTME were not enough to give him the course he applied_____ Medicine. The ambitious Ozoemena encouraged himself and at every point, he gave his best to his studies.
Standing in front of the mirror in an apartment he rented four years ago, Ozoemena was touching his beards as his mind raced on how fast time flies. In few months time it would be his fifth year in the city and all he could boast of was the little money in his bank account and the ones he sends to his mother every time he received his salary. His dream of being a medical doctor has not completely died but it will take a miracle to keep him focused if he does not get admission when the University of Nigeria, Nsukka, releases her supplementary list and his name is not there. Although he scored 300 in Post UTME and made 238 in JAMB, he could not tell why he was not shortlisted in the merit list.
He had applied medicine like always, but this time he got the N10,000 supplementary form and shopped for Zoology after being advised by a friend.
"Well, they have forced me to opt for zoology at a time when Zoos are rapidly disappearing from this country. God knows that education will go to hell if the VC doesn't give me admission this time!" Ozoemena mused.
This Article was Written By ORDINARY JUSTICE (a.k.a O. Just). We hope you enjoyed it.
Don't forget to, Share this Article with your friends using the Facebook share button at the end of this page
Join Us on Facebook and twitter for more Interactive infos/updates…