www.waecdirect.org Guide On Checking 2023 WAEC Result on Checker Website.
The waec result checker 2023 website www.waecdirect.org for candidates to check their results has been activated. Here is how to check the result of wassce for school candidates and wassce for private candidates waec gce.
The West African Examination Council (WAEC) have just released the SSCE results, stating that candidates can now check their Waec results 2023 online.
How To Check Waec Result Online.
Check below for procedures on how to login to the WAEC result checker portal to check 2023 Wassce results;
Visit the WAEC Result Checking website via; https://www.waecdirect.org
Enter your 10-digit WAEC Examination Number; (This is your 7-Digit centre number followed by your 3-digit candidate number eg. 4123456789);
Select your Examination Year (i.e. 2023);
Select the Type of Examination [ i.e. PRIVATE CANDIDATE RESULTS];
Enter the Card Serial Number found on the reverse side of your WAEC Result Checker Scratch card;
Enter the Personal Identification Number (PIN) on your Waec result checker Scratch card (Use the PIN printed on your examination /acknowledgement slip);
Click Submit and wait for the results window to come up.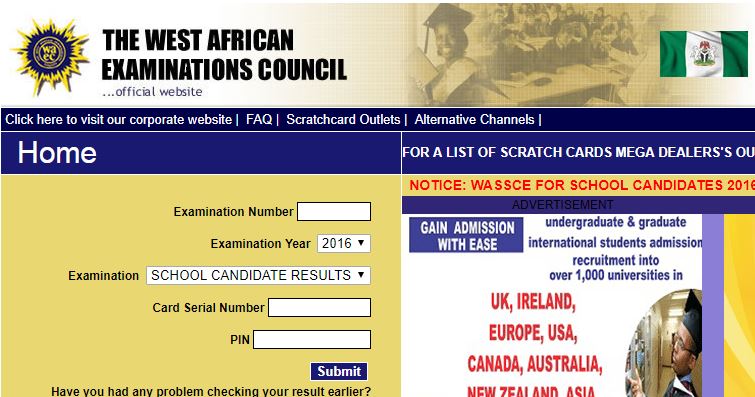 How To Check WAEC Result Using Phone.
Alternatively, you can use the SMS notification method to check your waec result free using phone by following the steps below;
Send SMS in the format: WAEC*ExamNo*PIN*ExamYear to the short-code 32327 (MTN, Aritel & Glo subscribers)
For example -:  WAEC*4250101001*123456789012*2023
Note: Ensure you adhere strictly to the format above. There should be no space in the message. Wait for your result to be delivered to your phone via SMS. (SMS Cost N30 Only).
Frequently Asked Questions.
How many times can I check my results?
Candidates can check their results up to a maximum of 5 (five) times with the use of 1 (one) Scratch card. In order to check further after exhausting the allowed 5 (five) times you will need to purchase another Scratch card which will entitle you to another 5 (five) result checks.
How can I check my Waec result without my exam number?
You

cannot check waec result without knowing your examination number.

How can I recover my Waec exam number?
If you are having trouble checking your result as a result of wrong exam number, you have to proceed to the nearest WAEC office to make corrections to information erroneously provided by you in the course of your registration. In the case of forgotten waec exam number, you will still have visit the nearest WAEC office with an affidavit and photo ID to retrieve your examination number.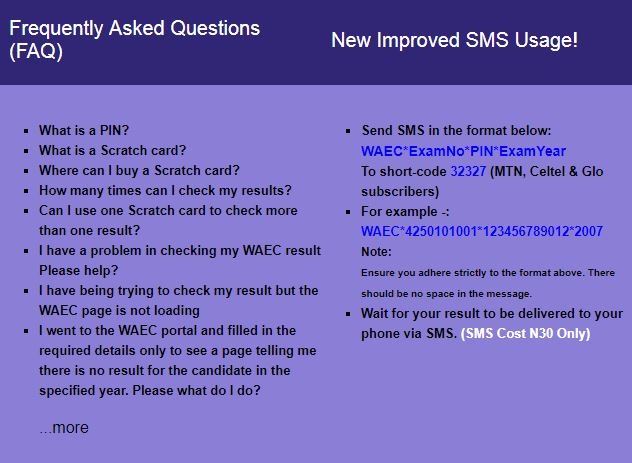 Please, be informed that WAEC exam numbers are reused every year and the only unique difference is the examination year. Please change the exam year to the year you took your exam.
Don't Miss out of any Important  Info, Always Be the First to Know! Join the Official UnnInfo Facebook Group now => https://facebook.com/groups/UnnInfoOfficial/
Don't Forget to share this post with your friends using the Social Media SHARE buttons below.