National Identity Management Commission Guide.
nimc registration portal website https://nimc.gov.ng for National Identification Number enrolment. Latest NIMC recruitment news. Centres and offices nationwide.
About NIMC.
The National Identity Management Commission (NIMC) established by the NIMC Act No. 23 of 2007 has the mandate to establish, own, operate, maintain and manage the National Identity Database in Nigeria, register persons covered by the Act, assign a Unique National Identification Number (NIN) and issue General Multi-Purpose Cards (GMPC) to those who are citizens of Nigeria as well as others legally residing within the country.
The NIMC Act 2007 provides for the establishment of the NIMC, its functions, powers, establishment of the National Identity Database, assignment and use of General Multi-purpose cards, and the National Identification Number (NIN). The Act also provides the Commission with powers to make regulations connected with its functions. The NIMC Act 2007 provides the repeal of the law that created the former Department of National Civic Registration (DNCR) and the transfer of its assets and liabilities to the NIMC.
Section 2 of the NIMC Act No. 23 of 2007 provides for a Governing Board as the highest-decision making body in the Commission. The Board, which membership other than the Director General/Chief Executive Officer shall be part-time, comprises of a Chairman, a representative each from fourteen (14) government agencies and institutions, three (3) persons who are knowledgeable in Information Communication Technology and the Director General / Chief Executive Officer.
The inauguration of the current Governing Board took place on 21 September, 2017. Comprised of four (4) non-executive Presidency representatives and fourteen (14) non-executive representatives from other federal government agencies and the DG/CEO of NIMC, the board members are:
Mal. Bello Ibrahim Gwandu as the Acting Chairman – Presidency
Rt. Hon (Engr) Akanimo Edet – Presidency
Mr. Toibudeen Oduniyi – Presidency
Engr Chidi Nwafor – Independent National Electoral Commission (INEC)
Mr. Ikharo Nasiru Saliu – National Health Insurance Scheme (NHIS)
Representative – Nigerian Immigration Service (NIS)
Mrs Ekanem Bassy Aikhomu – National Pension Commission (PENCOM)
Mr. Iloka Bertram Chukwubuike – National Population Commission (NPopC)
Mr. Dipo Fatokun – Central Bank of Nigeria (CBN)
DCP David Igbodo – Nigerian Police Force (NPF)
Brig. Gen. Abdullahi T. Mohammed – Office of the National Security Adviser (ONSA)
Mrs. Saratu Shafi'i – Corporate Affairs Commission (CAC)
Mr. Kola Okunola – Federal Inland Revenue Service (FIRS)
Maj. Gen. E.G. Whyte – Office of the Chief of Defence
Representative – Federal Road Safety Commission (FRSC)
Mr. Williams Fugah – Department of State Security Service (DSS)
Mrs. Elizabeth Ayodele – Economic and Financial Crimes Commission (EFCC)
Engr. Aliyu Abubakar Aziz, DG/CEO of NIMC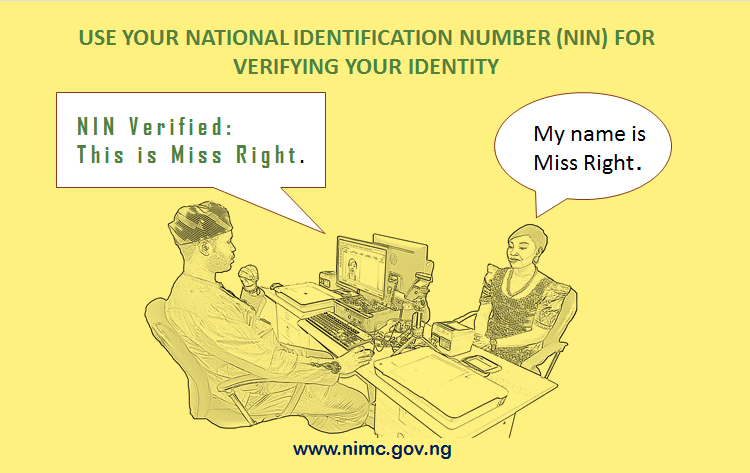 NIMC Registration Portal.
Visit the link below for a detailed guide on how to enrol and get the NIN National Identification Number.
=> https://unn-edu.info/2020/12/nin-registration-number.html
NIMC Recruitment.
For those interested in getting a job and building a career at the National Identity Management Commission, the NIMC Human Resource policy is informed by this laudable objective and we seek to recruit, retain, motivate and train continually a skilled and innovative workforce knowledgeable in modern Information and Communication Technology infrastructure and applications.
Consultancy Services:
As part of strategies for harnessing worldwide examples of best practices, and to stimulate involvement of the public and private sectors in order to continually re-affirm the priorities for the implementation of an effective Nigerian Identity Management System, the NIMC provides for the engagement of suitably qualified individuals, firms or consortia of firms to render consultancy services in various areas related to its main objectives. Interested individuals or firms may submit their application to our database here online. The engagement of such individuals or firms is in accordance with stipulated Federal Government's Due Process Guidelines and Regulations.
The Commission provides for the mandatory one year National Youth Service Scheme for Nigerian graduates as part of its national development. Students on Students Industrial Work Experience Scheme (SIWES) from various tertiary institutions are also absorbed in the Commission. Aptitude tests are normally conducted for these two categories of students and their engagement is based on performance and availability of vacancy.
Regular Staff:
Recruitment will normally commence with widely published advertisement in at least four (4) national daily newspapers.
Note: NIMC IS CURRENTLY NOT RECRUITING. Be sure to bookmark this page and check back regularly for updates.
Spread the love - Share this with your friends