Prof. Charles Esimone is New UNIZIK Vice Chancellor.
Professor Charles Okechukwu Esimone has been appointed the new Vice Chancellor of Nnamdi Azikiwe University (UNIZIK0, Awka. Until his recent appointment, Professor Esimone was the Deputy Vice-Chancellor (Academic) of the university.
He was born in Tiko, Cameroon where he graduated from St. Joseph's College Sasse, Cameroon and went on to the University of Nigeria, Nsukka (UNN) to obtain B. Pharm, M. Pharm and Ph.D.
Esimone is a Professor of Biopharmaceutics and Pharmaceutical Microbiology in the Faculty of Pharmaceutical Sciences, Nnamdi Azikiwe University and the Pioneer Dean of the Faculty.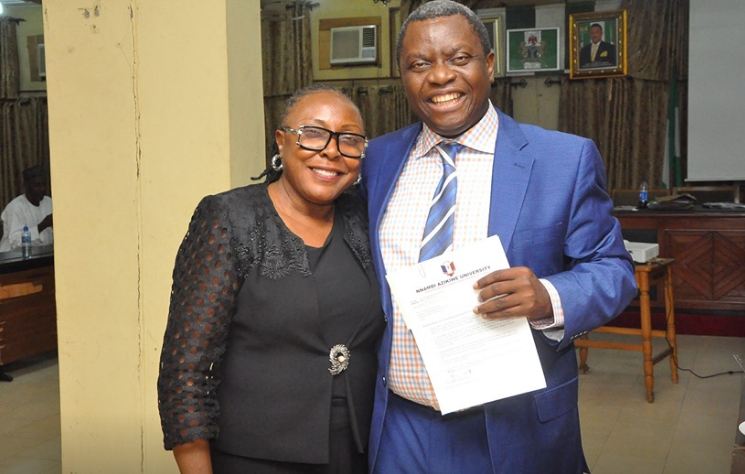 He became a professor at the age of 37, emerging as the youngest professor in the University and her first professor of Pharmacy as well as the first professor of Pharmaceutical Microbiology in Southeastern Nigeria.
He has well over 200 publications and speaks good English, French, and German. He is a recipient of several awards which include the Alexander von Humboldt Fellowship to Germany (2003-2005), Visiting Scientist to the University of Pittsburgh, USA (2007-2008), the ANDI Bright Contest Award for the Best African Innovative Researcher, South Africa (2009), Young Scientist representing Nigeria at the "Summer Davos" Annual Meeting of New Champions, Tianjin, China (2010) and the CV Raman Senior Fellowship, India (2013).
Prof. Esimone is a member of the Governing Council of the Pharmacists Council of Nigeria, the Nnamdi Azikiwe University and the Nanomedicine Society of Nigeria. He is indeed the Pioneer National President of the Nanomedicine Society of Nigeria.
He is a member of several professional bodies including the Global Young Academy and the American Society for Cell Biology. Prof. Esimone is a Fellow of the Nigerian Academy of Science, Fellow of the Pharmaceutical Society of Nigeria and Fellow of the Nigerian Academy of Pharmacy.
The UNIZIK new VC is the State Campus Coordinator for Deeper Life Campus Fellowship, Anambra State and also a member, BOT (Board of Trustees) of Anchor University, Lagos. He is happily married and the marriage is blessed with three boys and two girls.