Latest Update on ASUU Strike 2019.
The latest news update on asuu strike 2019 as they happen. The November 2018 ASUU strike, the latest in the series of strikes embarked upon by the Academic Staff Union of Universities (ASUU) in the last few years, commenced early November 2018. This time, the lecturers has susspended the strike.
Here, we will be providing you the latest information and up to date news on the ongoing ASUU strike in the year 2019. Scroll down to see asuu latest news for today and all latest news on asuu strike 2019.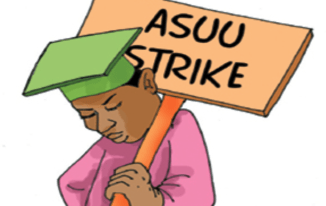 ASUU Strike Update January 2019.
February 08, 2019 – Finally, strike suspended.
ASUU to Transmit FG's latest offer to Members (February 03, 2019)
The Federal Government and the Academic Staff Union of Universities (ASUU) have agreed to continue talks next week Thursday, after government made a reasonable offer, over the union's demand for N50billion to end the ongoing strike.
(January 28, 2019) No movement as ASUU refuses to bulk on demands.
Encouraging signs as FG, Lecturers' agree on 7 areas (January 23, 2019)
Following backlash, NANS begs FG to address grievances of lecturers (January 22, 2019).
Conditions To End Strike by ASUU (January 21, 2019).
Has ASUU Strike been called off? When will ASUU strike end?
If you are among the students asking questions similar to those above, the truth is there is no clear answer to those questions. Resumption of academic activities in schools will be dependent on ASUU calling off the over 2 months old strike.
ASUU President, Prof Biodun Ogunyemi ,have given the following conditions for calling off the strike;
"We want them to pay immediately N50 billion as a sign of commitment this quarter and for the next three quarters government can pay N50 billion in each quarter.
"Some of our members have rejected the N20 billion proposed by them that will be spread over two quarters in 2019. Our members have insisted on the release of at least N50 billion.
"In relation to earned academic allowances, which they have an outstanding N105 billion, our members are saying that even if you (government) are releasing N20 billion, let it be stated clearly that it is only for ASUU members and the balance, which you promised to pay in four instalments, attach timelines to the balance and figures.
"In 2017, this government promised to mainstream the earned academic allowances into the budget so that we won't be coming to talk about arrears. If government had put that into the 2018 budget, we would not be talking about arrears now.
Meanwhile, The FG is still promising that students will soon return to classrooms.
ASUU Resumes meeting with FG over strike (January 20, 2019).
ASUU Strike Update December 2018.
ASUU after their personal interest, not that of students – NANS (December 30, 2018).
Parents, students call for quick FG intervention (December 27, 2018).
NANS issues two weeks ultimatum (December 25 2018).
ASUU says she may not honour further calls by Federal Government (December 23, 2018).
Buhari urges ASUU to suspend strike in national interest (December 18, 2018).
ASUU Strike: ASUU storms out of meeting with FG (December 17, 2018).
FG withdraws 'no work no pay' threat (December 3, 2018).
ASUU Strike Update November 2018.
The Key Demands of ASUU on Strike (November 15, 2018).
The union who wants government to resume negotiation on the 2009 agreement regarding the decay in public universities are making on basically these 5 key areas.
1. Areas of agreement include funding for revitalization of public universities and the issue of Earned Academic Allowances.
2. The issue of University Staff Schools.
3. The implementation of the judgment of the National Industrial Court, National Universities Pension Management Company and guidelines for pension matters for professors.
4. The exemption offered by the government regarding the issue of TSA, which included the issue of grants, endowment funds as well as salary shortfall, which is already being implemented by the government.
5. The union also promised to submit a position paper to the Federal Government on their observation with a view for government to advise state governments.
ASUU begins Indefinite Strike (November 5, 2018). The Academic Staff Union of Universities commenced a nationwide industrial action with the quoted press statement by the National President of the ASUU, Professor Biodun Ogunyemi, below. "Having waited patiently for action and meaningful negotiation with reasonable men using the principle of collective bargaining that ASUU at its NEC meeting of 3rd and 4th November 2018 at the FUTA, resolved to resume the nationwide strike action it suspended in September 2017 with immediate effect. "This strike will be total, comprehensive and indefinite. Our members shall withdraw their services until government fully implements all outstanding issues as contained in the MOA of 2017, and concludes the renegotiation of the 2009 agreements."We have today (Sunday) been subjected to 20 years of continued re-colonisation under alleged democracy in which all the ruling class have been regrouping among themselves in their various factions they called political parties.