Nigerian Defence Academy NDA Form 2020 Admission Application Guidelines.
The Nda form 2020 information for admission into Nigerian Defence Academy Kaduna 72nd Regular Course has been released. The Nigerian Defence Academy hereby announces commencement of application for admission into the 72nd Regular Course (RC) of the institution.
The application form will be available for sale from 5th December, 2019 to 14th May, 2020.
Admission into NDA is open to both MALE and FEMALE Nigerians. All applications for the 72nd Regular Course of the Nigerian Defence Academy must be done electronically.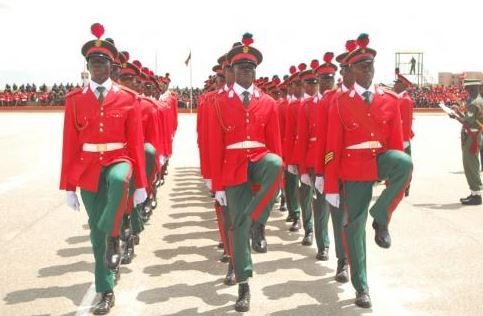 NDA Admission Eligibility & Requirement:
To be eligible for admission into the Nigerian Defence Academy (NDA), Kaduna a candidate (Males and Females are eligible) must have the following:
Minimum of 5 credit passes with English and Mathematics at the Senior Secondary Certificate Examination conducted by the West Africa Examination Council (WAEC) or National Examination Council or National Business and Technical Examinations Board or General Certificate of Education Ordinary Level obtained in not more than 2 sittings relevant to the Faculty of their choices.
At least two supporting relevant credits to the compulsory credits in Faculty of Arts and Social Sciences and Faculty of Science. However, only one supporting relevant credit is required in the Faculty of Engineering.
Be at least 17 years but not less than 21 years by 22 August, 2020.
(2) The Nigerian Air Force has suspended the enlistment of female candidates in her Regular Combatant programme in NDA.
Must not be less than 1.68 metres tall for male and 1.65 metres for female.
Must be medically and physically fit and must be of good moral character.
Must be single male or female without legal obligation to support any child or other individuals.
Must be medically and physically fit and must be of good moral character.
Must have a BMI of between 18.5 – 25.5 kg/m2 to be considered for selection.
Present a Certificate of indigeneship from the State Government or Local Government Area.
Working knowledge of French, Arabic or Mandarin language is an added advantage.
The candidates must meet the pre-requisites listed on the School website; www.nda.edu.ng before they can be admitted into any faculty /department for the degree programme.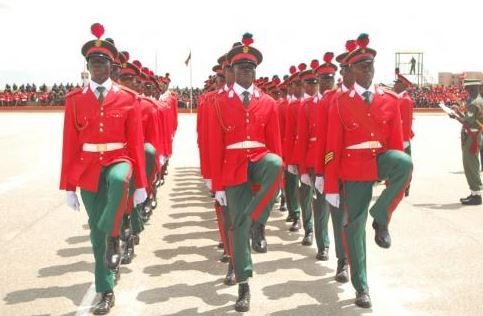 How To Apply:
 Candidates should logon to the application portal via http://ndaapplications.net/, click on 'Purchase Application Form' tab.
Your first step to apply to the Nigerian Defence Academy is to create an account. Your account will enable you purchase a form and also complete your application over several sessions.

Applicants can pay for their applications Online via the portal or via REMITA Retrieval Reference RRR at any Nigerian bank of choice. Ensure you have completed the previous step "CREATE AN ACCOUNT" to proceed.

To pay Online, Login to the application portal, choose 'Pay Online'. To pay via at any Nigerian bank of choice, login to the application portal, choose 'Pay at Branch' The application will guide you through the rest of the straightforward payment process.
The online upload of required application documents is necessary, it is therefore advised that you please come along with the originals of this uploaded documents for sighting during your interview. Your application information is maintained on a secure server and remains confidential prior to submission. Use the Support link to get help or assistance during the completion and submission process. Kindly note that your application is not complete until all copies of your Credentials, have been uploaded and submitted along with your application.
Your application will be reviewed online by the appropriate admission officials once submitted to Nigerian Defence Acadmey Online. All required application procedures must be completed on or before the appropriate application deadline.
Check the status of your application by logging into this system with the login details assigned to you for the application.
EXAM DETAILS:
The examination will be conducted as an Entrance Examination on Saturday, 15th August, 2020.
Therefore, all eligible candidates are to bring along their Acknowledgement Form, JAMB result slip and TWO (2) postcard sized (3.5 x 5 inches) photographs to the Examination Centre on the examination date.
The photographs should show only from the chest upwards and should contain the candidate's Name, State, Centre and Signature at the back.
Only successful candidates at the NDA Entrance Examination will subsequently be invited for the Armed Forces Selection Board following which the list of admitted candidates will be published.
Nigerian Defence Academy NDA Exam Centres:
| | | |
| --- | --- | --- |
| Serial | State | Examination Centre |
| 1 | Adamawa | Government Day Secondary School Opposite HQ 23 Armd Bde, Yola |
| 2 | Akwa-Ibom | Community Secondary School, Aka Offot, Uyo |
| 3 | Bauchi | Army Children School, Bauchi |
| 4 | Benue | Command Secondary School, Makurdi |
| 5 | Ebonyi | Command Secondary School, Abakaliki |
| 6 | Edo | Nigerian Air Force Primary School, Benin |
| 7 | Enugu | Army Day Secondary School, Abakpa Barracks, Enugu |
| 8 | FCT | Command Day Secondary School, Lungi Barracks, Abuja |
| 9 | Gombe | Govt Science Secondary School, Jeka Da Fari, Gombe |
| 10 | Imo | Holy Ghost College, Owerri |
| 11 | Kaduna | Command Secondary School, Kaduna South |
| 12 | Kaduna | Nigerian Defence Academy, Permanent Site, Kaduna |
| 13 | Kaduna | Nigerian Defence Academy, Old Site, Kaduna |
| 14 | Kano | Army Day Secondary School, Bukavu Barracks, Kano |
| 15 | Lagos | Command Children's School/Command Day Secondary School, Ikeja Cantonment, Lagos |
| 16 | Lagos | Navy Secondary School, Ojo Town, Lagos |
| 17 | Ondo | Army Day Secondary School, Akure |
| 18 | Oyo | Command Day Secondary School Odogbo, Ibadan |
| 19 | Plateau | Command Day Secondary School Rukuba Barracks, Jos |
| 20 | Rivers | Navy Secondary School, Port Harcourt |
| 21 | Sokoto | Army Day Secondary School, Sokoto |
NB: Admitted candidates into NDA for the Regular Course will undergo military and academic training as Officer
Cadets for a duration of 5 years. On successful completion of training, graduands will earn a honours
degree in a core discipline (BSc, BEng, BA). They will equally earn a commission into the Armed Forces of Nigeria.
ADMINISTRATION: All Regular Course cadets will train in NDA and the cost of their administration and logistics will be borne by the Federal Government.
Only candidates who score a minimum of 180 (for Faculties of Arts and Social Sciences, Science and Military Science & Interdisciplinary Studies) and 210 (for Faculty of Engineering) in JAMB 2020 examination shall be offered admission into NDA by the AFSB.