Prof Emmanuel Aguwa 138th UNN Inaugural Lecture Invitation.
The Vice-Chancellor of the University of Nigeria, Nsukka (UNN) Prof. Chukwuma Ozumba has the pleasure to invite the entire members of the University Community, as well as the general public to the UNN 138th Inaugural Lecture.
The Inaugural Lecture, titled, "Occupational Hazards and Linkages to Increased Mortality and Morbidity: The Southeast Nigeria Perspective" will be delivered by  Professor Emmanuel Nwabueze Aguwa ( A Professor of Medicine).
The 138th Inaugural Lecture is scheduled as follows;
Date: Thursday, July 12, 2018.
Venue: Moot Court Hall, University of Nigeria, Enuugu Campus.
Time: 1 pm.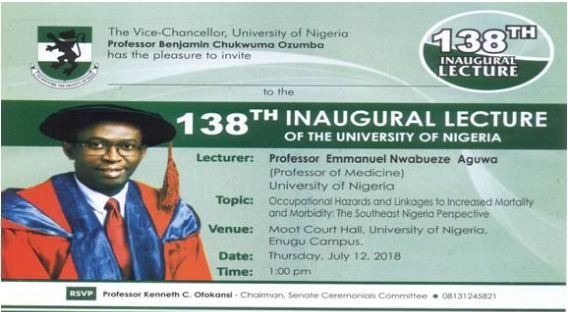 For updates and details about UNN Post Utme Screening Exercise 2018/2019 session, visit the link below;
>> https://unn-edu.info/2018/07/unn-post-utme-2018-screening.html