Portal INEC Recruitment for 2019 Election Adhoc Staff.
Has INEC Recruitment 2019 commenced for adhoc staff? How do I apply for job vacancies on Inec Recruitment Portal http://pres.inecnigeria.org? These are some of the frequently asked question about career at the Independent National Electoral Commission (INEC) Nigeria.
Information reaching us at the moment has it that a massive Inec recruitment for 2019 election adhoc staff has commenced. Read details of it below.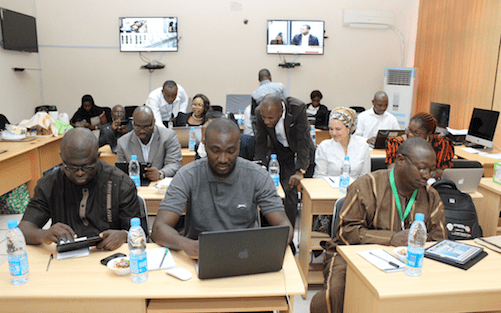 Eligibility for INEC Recruitment:
Outlined below are the various positions available and their requirements, Please make sure you read the instructions below before you begin your registration.
SUPERVISORY PRESIDING OFFICER (SPO)
Requirement: Must be a Public / Civil servant on Grade level 10 – 14 OR A Registration Area Officer (INEC Staff) .
REGISTRATION AREA CENTER (RAC) MANAGER
Requirement: Must be a staff (GL 07 and above) of the school / Institution / Public building hosting the RAC.
PRESIDING OFFICER (PO) / ASSISTANT PRESIDING OFFICER (APO)
Requirement:
– Must be a Serving Corps member
– OR A penultimate student of a Federal/State tertiary institution in Nigeria
– OR A staff of an MDA with an OND qualification
– OR A former corps member (Not later than 2017 batch)
REGISTRATION AREA TECHNICAL SUPPORT (RATECH)
Requirement:
– Must be a suitable INEC staff (not engaged in any other duties)
– OR A serving corps member where available
– OR A student of Information Technology institutions
– OR A penultimate student of a Federal Tertiary Institution.
Returning enrollees should enroll based on the appropriate category that currently applies to them.
How To Apply for INEC Recruitment 2019:
To apply, kindly log into the Inec recruitment portal via the link below;
>>

http://pres.inecnigeria.org

If you have not created an account or registered on this platform, then follow the steps outlined.
Review the requirements for the available positions. You are expected to go through the requirements for all available Election staff positions to determine your Eligibility
Click on Register and follow the instructions.
Check your email for an account verification link and password. Note: if mail is not found on your INBOX folder, kindly check SPAM or send a mail to 

electionstaff@inec.gov.ng

Click the account verification link sent to your email to activate your account.
Change your Password After changing your password, you are automatically logged into the portal and presented with an application form
Fill the Application form. This form is segmented into three (3) section; Personal Information, Contact Information and Bank Details. Ensure you fill in your details correctly. You will not be allowed to edit details once they are submitted.
Upload your passport photograph. You are required to upload a recent plain background passport photograph. Please make sure the size is not larger than 50KB
Fill in the details of your referees
Check the Attestation box
Every information provided, will be subjected to validation from your source institutions/organization/referees
Submit the application
Print your acknowledgement slip. You will need this for the final verification.
All submissions are FINAL. Please be sure to review your information thoroughly before you submit.
NOTE: Deployment would be done based on your selected state of residence.
Before you register on the platform, ensure you have the following ready;
A functional email address.
A functioning mobile phone number.
A personal account number.
A recent and clear plain background passport photograph not larger than 50KB.
Contact details of referee such as email address and phone number.
A valid means of identification (Staff ID No./ Student ID No).
An NYSC Callup Number for former corps members from 2017.
Don't Forget to Share this Info with Your Friends on Facebook, Twitter, WhatsApp Etc. Using the SHARE buttons below…