All 2017 JAMB UTME Candidates Are To Re-upload Their O'level Results Online.
Joint Admission and Matriculation Board, JAMB, wishes to inform all UTME candidates to re-upload their O'level results on the JAMB e-Facility Portal.
In an information released on the JAMB's twitter page, all candidates are advised to upload their results to the portal again.
The board wishes to inform all candidates that have made changes (change of institution /course) and it has not been reflected that they should exercise patience as the comprehensive list would be sent to all Institutions soon.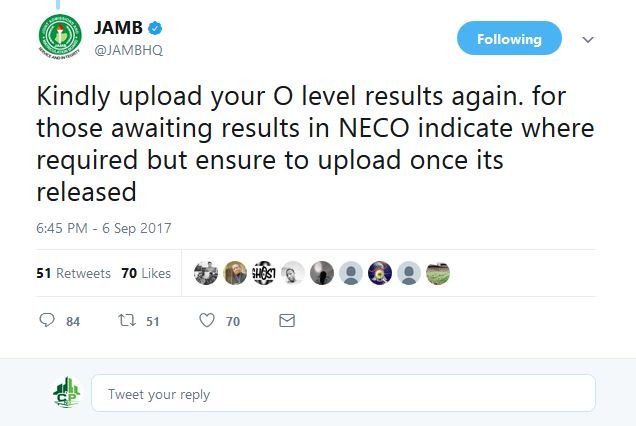 According to the release, "All Institutions have been directed to ensure that candidates awaiting the release of NECO results are considered for their various PUTME.
"Candidates should not panic as they would certainly sit for the PUTME in the Institutions they have made changes to.
"Kindly upload your O level results again. for those awaiting results in NECO indicate where required but ensure to upload once its released", it concluded.
Kindly upload your O level results again. for those awaiting results in NECO indicate where required but ensure to upload once its released

— JAMB (@JAMBHQ) September 6, 2017
Follow the guide on the link below to learn How To Upload OLevel Result on JAMB Portal;
https://unn-edu.info/2017/08/jamb-uploading-olevel-waec-results-2017.html

Don't Miss out of any Important  Info, Always Be the First to Know! Join the Official UnnInfo Facebook Group now => https://facebook.com/groups/UnnInfoOfficial/
Don't Forget to share with your friends using the SHARE buttons below…