The Ibadan Polytechnic Announce Post UTME Screening Date, Cut off Mark for 2017/2018 Session.
The management of the Polytechnic Ibadan has announced the sale of form for the 2017/2018 Academic Session National Diploma admission.
Also Read: The Polytechnic Ibadan ND Admission List 2017/18 is Out – Check Here
Available Faculties:
1. Faculty of Engineering
2. Faculty of Science
3. Faculty of Environmental Studies
4. Faculty of Financial Management Studies
5. Faculty of Business and communication Studies.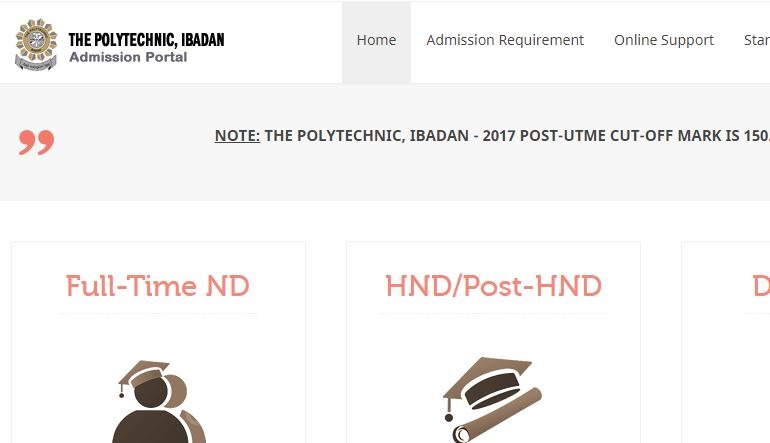 Eligibility:
i) Candidates applying for the National Diploma Programmes must have attempted the Unified Tertiary Matriculation Examination (UTME) and obtained scores not lower than 150.
ii) All candidates who made the institution their choice in the 2017 Unified Tertiary Matriculation Examination (UTME).
Method Of Application:
Applications forms are obtainable on-line at http://apply.polyibadan.edu.ng/ for registration and Post-ND Screening using any Verve, Mastercard or VISA ATM Card.
Other details about available programmes and their requirements can be accessed on the admission website.
COST: Post-UTME ND – N2,500.00 plus Administrative Charges – N5,000.
Application Deadline: Application ends 3rd October, 2017.
Candidates are to login to their profile on the school portal to check their exam dates and reprint their registration slip.
The Polytechnic, Ibadan was established in 1970 as a successor to the erstwhile Technical College, Ibadan under the provisions of a principal Edict cited as the Polytechnic, Ibadan Edict 1970.
This Edict has undergone several amendments in order to make the Polytechnic relevant to the present day needs of Oyo State, the Proprietor in particular and Nigeria in general.
The primary function of the Polytechnic is to provide for students training and development of techniques in applied science, engineering, environmental science and commerce. The Polytechnic has been producing majorly middle-level manpower that has been making valuable contributions to the social and economic development of the country.
Over the years the Polytechnic has also produced high-level manpower in some areas such as urban and regional planning, mass communication etc. The primary focus of the Polytechnic is training that is practical oriented.
The institution has been performing this function creditably well for over thirty years.