ABSU Post UTME Admission Screening Form 2017/2018 is Out – See Absu Cut off Mark, Registration Procedure.
All candidates who selected Abia State University (ABSU) as their first and second choice in the 2017 JAMB Examination and scored up to National cut-off of 120 and above are hereby invited to register for Aptitude Test exercise.
The Registration forms for the Aptitude Test are available on-line from Monday 28th August, 2017.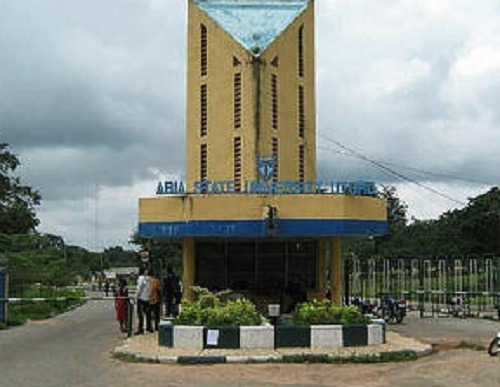 METHOD OF APPLICATION:
Eligible candidates should Log on to the ABSU portal (

abiastateuniversity.edu.ng

) and generate an invoice.
Proceed to any branch of our designated Banks listed below and pay N2,000.00 for the Aptitude Test and N3,000.00 for Screening of Certificates and checking of admission status:
– ABSU Microfinance Bank;
– Sky Bank Plc;
– Zenith Bank Plc;
– First Bank Plc;
– Ecobank Plc,
– Fidelity Bank Plc;
– Union Bank Plc;
– UBA Plc.
Get back to the ABSU portal (abiastateuniversity.edu.ng) and click on Applicant.
Select ABSU Aptitude Test
Complete the Application Form, ensure you upload a clear passport photograph to avoid rejection of candidate and download a copy as an evidence of registration.
Screening Date & Details:
The Aptitude Test Exercise is scheduled to hold as follows:
EXAM DAYS
FACULTIES
DISCIPLINE(S)
  

1ST  DAY

Wednesday 20th

September, 2017

♦College of Medicine & Health Sciences♦Faculty of Agriculture.

♦ Engineering

♦Faculty of Biological & Physical Sciences.

♦All Science and Education Science Courses.

Medicine & Surgery, Optometry, Nursing, Medical Laboratory, Public Health, Mechanical Engineering, Electrical/Electronic Engineering, Surveying & Geo-Informatics, Computer Engineering, Information & Communication Technology, Food Science & Technology, Crop Production  & Protection, Agric Economics & Extension, Animal Science & Fisheries, Soil Science, Edu/Agric, Edu/Homec,   Microbiology, Biochemistry, Industrial Chemistry, Industrial Physics, Statistics, Mathematics, Animal & Environmental Biology, Plant Science & Biotechnology, Edu/Biology, Edu/ Chemistry, Edu/Physics, Edu/Mathematics, Edu/Inter. Science, Edu/Guidance & Counseling, computer science
 2nd   DAY

Thursday 21ST   September, 2017

♦Faulty of Environmental Studies & Education Combinations♦ Faculty of Business Administration.

& Education Business Courses

Architecture, Environmental Resources Mgt., Estate Management, Building, Geography & Planning Urban & Regional Planning, Fine & Applied Arts, Edu/Geography, Edu/Fine Arts,Accountancy, Management, Economics, Marketing, Banking & Finance, Edu/Accountancy, Edu/Economics, Edu/Business Studies, Edu/Management & Plan.,
EXAM DAYS
FACULTIES
DISCIPLINE(S)
3rd   DAYFriday 22ND   September, 2017
♦Faculty of Law♦Faculty of Humanities & Social Sciences

& Education Social Science courses

Law,  English & Literature, Mass Communication, History & Inter. Relation, Linguistics & Communication Studies, Religion, Political Science, Public Administration, Sociology, Library & Information Science, French, Philosophy, Information Science, Igbo, Edu/English, Edu/Government, Edu/Social Studies, Edu/History, Edu/Religion, Edu/Library, Edu/Igbo, Edu/French,
REQUIREMENTS FOR THE APTITUDE TEST FOR THE 2017/2018 ADMISSION EXERCISE
Candidates should come with the following writing materials: Pencil, pen, Erazor and Calculator for science Candidates
Candidates will not be allowed to enter the examination hall with their Cell Phones
Screening starts at 9a.m each day
(a) Candidates JAMB score must be up to the National Cut –off of 120 and above
(b) Chief Invigilators should mark attendance on the print-out for 1st Choice candidates and thereafter return same to Admission Officer
1st and 2nd choice Candidates Including Candidates who did not select Abia State University, should be allowed into the halls on presentation of a copy of JAMB and Aptitude Test Slips
Exams begin at 12 noon each day
Halls remain permanent for all examination, Supervision and Invigilators.
Security Officers should operate Outside the Halls
Direct Entry Candidates will take their exams on the same days with other candidates, according to their disciplines at the senate Chamber.
CLOSING DATE:
The closing date for the registration of the Aptitude Test is Monday 18th September, 2017.
At Abia State University, we believe in education that empowers individuals towards excellence and service. As a foremost state University in Nigeria founded in 1981, Abia State University has maintained its leadership within and beyond the Eastern heartlands of Nigeria. It has remained resilient in the acquisition and dissemination of ICT-driven skills, comparable to graduates anywhere in Africa.