Npower Assessment Time table 2017 for N-Agro, N-Health, N-Tax and N-Teach Categories is Out – New Exam Schedule.
NPower time table for graduate recruitment exercise has been published online. Candidates who applied for the N-power job are to start writing their assessment exams.
The N-power aptitude test shall be computer based for shortlisted candidates. Only applicants whose BVN records match their applications will be contacted to write the assessment test.
If you registered for N-Teach and your BVN records match your application, please log in with your BVN and phone number to see when you are scheduled to write your assessment test.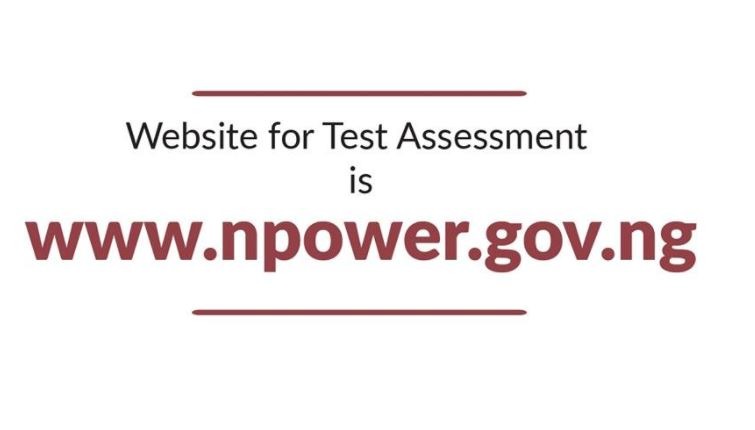 So once you get your text, proceed to the npower website at; www.npower.gov.ng were the test will be written at and click on the 'Test Menu'. Login with your Phone Number and BVN to start the test.
Npower Timetable for Assessment 2017:
The Npower assessment test Timetable schedule is as follows;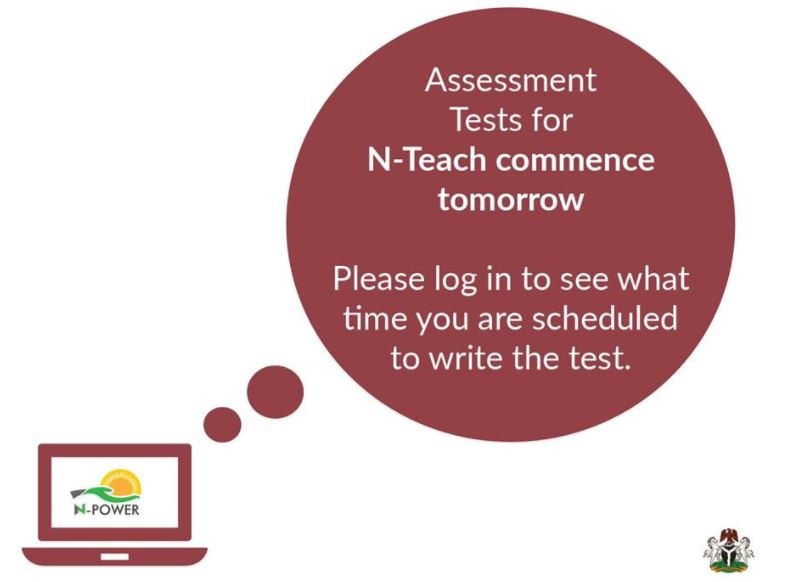 The aim of BVN validation is to avoid the current situation faced by some of the existing beneficiaries who have had issues with payment. When you log in, some of you may be able to write your test immediately, while some others will be scheduled to write your test at a future date and time.
Some others may be told that their BVN Validation is in process so we advise that you check back on Friday.
For some others, you won't be able to log in or you will see the term "INVALID" because your BVN records don't match your application and your application journey has come to an end.
Finally, for those who ticked certain competency skills when you applied for N-Teach, you will required to take a second test, a STEM test.
NB.: The N-Teach Assessment Tests will now commence on the 9th of August, 2017. Applicants who registered between July 15th – 27th will write their assessment tests between August 17th – 31st. SMS will be sent a day before you are scheduled to write the test.
Also check out the Npower test questions and answers on the link below;
>> https://unn-edu.info/npower-test-questions-answers
Important Notice On N-Power TAX.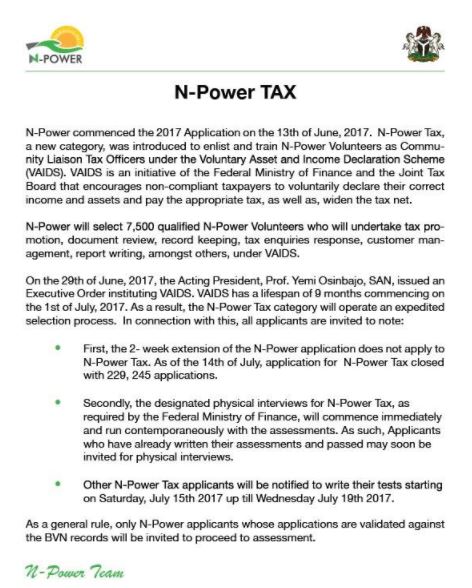 The N-Power Volunteer Corps is a segment of the N-Power programme which has been set out to engage and train 500,000 young unemployed graduates for the benefit of rural development in Nigeria. It is a paid volunteering programme of a 2-year duration.
Through the N- Power Volunteering Corps programme, the government's commitment to the improvement of quality of lives, reduction in income inequality and tackling of the deficiencies in public services will be actualised.
The focus of the Npower programme is to provide young graduates and non-graduates with the skills, tools and livelihood to enable them advance from unemployment to employment, entrepreneurship and innovation. Participants will provide teaching, instructional, and advisory solutions in 4 key areas (N-Power Agro, N-Power Health, N-Power Teach, N-Power Vaids).
REMINDER
ONLY applicants whose BVN records match their applications will proceed to the Assessment Test Stage. The arrangement of the names doesn't disqualify you.
There is a NEW Assessment Test Schedule. You won't receive an SMS till the stipulated date for your category.
STOP trying to log in if it isn't the period for your assessment. You may be disqualified.
Applicants whose records DON'T match will also receive an SMS that their application journey has come to an end.
It would be recalled that the Federal Government announced recently that the application will commence on Wednesday 14th June 2017.
Best wishes to you all…