How To Register For WAEC GCE 2018 Jan/Feb Private Exams.
WAEC Gce registration 2018 has commenced for the newly introduced January-February WASSCE Private exams.
The Jan/Feb WAEC Gce referred to as WASSCE Private – First Series will hold only in urban areas. Interested candidates are advised to check for availability of exam towns on WAEC website before purchasing the online registration PIN. The registration will begin on Monday, October 9 and end on Friday, December 29, 2017. Read the official announcement below for full details.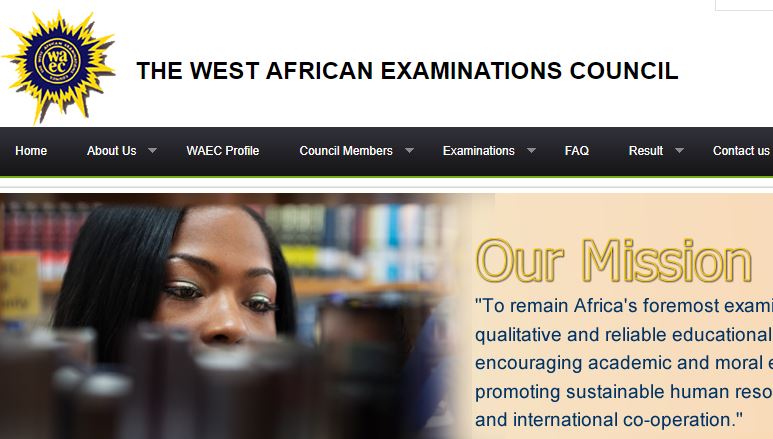 WEST AFRICAN SENIOR SCHOOL CERTIFICATE EXAMINATION (WASSCE) FOR PRIVATE CANDIDATES, 2018 – FIRST SERIES
INTRODUCTION:
​The West African Examinations Council (WAEC), will begin conducting two series of the West African Senior School Certificate Examination (WASSCE) for Private Candidates, as from 2018.
The First Series will be conducted between January and February, while the Second Series will be conducted between August and October every year.
​The WASSCE for Private Candidates, 2018 – First Series would be an urban based examination. Nineteen (19) subjects will be available for the examination.
Intending candidates for the examination are, therefore, strongly advised to visit the Council's corporate website –www.waecnigeria.org- to confirm available examination towns and subjects before obtaining the registration PIN.
APPLICATION FOR REGISTRATION:
Intending candidates for the West African Senior School Certificate Examination (WASSCE) for Private Candidates 2018 – First Series are hereby informed that the registration will be online.
METHOD OF PAYMENT:
Candidates are expected to pay a registration fee of Thirteen Thousand, Nine Hundred and Fifty Naira Only (N13,950) at branches of any of the following banks or any accredited agent and obtain the registration PIN and information VCD:
ACCESS Bank Plc,
First Bank of Nig. Ltd,
Sterling bank Plc,
Zenith Bank Plc,
Diamond bank Plc,
First City Monument Bank Plc,
Skye Bank Plc,
Union Bank of Nigeria Plc,
Ecobank Ltd,
Guarantee Trust Bank Plc,
Stanbic IBTC Bank Plc,
United Bank for Africa Plc,
Fidelity Bank Plc,
Heritage Bank Plc,
Standard Chartered Bank Plc,
Unity Bank Plc,
WEMA Bank Plc.
In addition, candidates will be required to pay Five Hundred Naira (N500) commission to the banks/accredited agents.
REGISTRTION PERIOD:
The normal registration period is from Monday, October 9 2017 to Friday, December 29, 2017. After obtaining the registration PIN, candidates should log on to www.waeconline.org.ng for registration. Candidates should also note that the registration procedure has been designed to accommodate biometric features that will be used to validation at the examination centres.
REGISTRATION:
Candidates must conclude registration within two weeks of first access to the website within the registration period. They should ensure that their names, gender, passport photograph, dates of birth and subjects are correct. They are also to print the Admission Notice/Photo Card as evidence of registration. This will serve as their photo card during the examination. The Result Checker PIN will also be on the Photo Card.
Only Digital Personal Scanner should be used for fingerprint registration.