ADDRESS BY SIR, DR. EMEKA ENEJERE, THE PRO-CHANCELLOR AND CHAIRMAN, GOVERNING COUNCIL, UNIVERSITY OF NIGERIA, NSUKKA @ THE 7TH ANNUAL CONVENTION OF UNN-ALUMNI USA, HOLDING AT LOS ANGELES, CALIFORNIA, USA October 18 – 20, 2013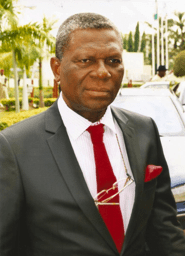 On behalf of the Governing Council of your Alma Mater, the University of Nigeria, Nsukka, I bring you fraternal greetings.
Since our Council, the 14th in the history of our University was inaugurated on April 9, 2013 by Prof. Ruqayyatu Ahmed Rufa'i, then Federal Minister of Education, this Los Angeles Conference of UNN-Alumni USA is the 3rd assemblage of organized Lions and Lionesses, that Council has attended.  The other two were National Executive committee meetings of the National UNN Alumni association hosted by Lagos State and Imo State Chapters of our Association between July 4 – 7 and September 5 – 8, 2013 respectively.
It gives me great pleasure therefore to be leading a delegation of the 14th Governing Council of your University and its Management to your 7th Conference.  This is happening as a conscious policy on the part of Council to get close to the Alumni Association, in full recognition of the strategic partnership that should exist between universities and their graduates in the growth, development and advancement of universities; which in our case, must now be strengthened, going forward.
The noble visions of the Founding Fathers in establishing University of Nigeria, Nsukka as a world-class institution of higher learning for Nigeria, Africa, the Black Race and the world, are well known but bear recapitulation here for the record.
The first Vice-Chancellor of our University, Dr. G. M. Johnson on the first Alma Mater Night on June 9, 1963 took the audience on an excursion into the soul of Dr. Azikiwe and the men from Africa, Europe and America who shared Nsukka's vision of destiny.  That vision was based on the conviction that if a university is to truly serve a nation, it should produce graduates dedicated to service of their fellow man rather than his exploitation.  It should be dedicated to developing the resources of their country for the public welfare rather than for private gain and to building the nation rather than building their personal bank accounts.
The best ideas in the academic experience of Britain, Europe, America and elsewhere, were married thoroughly with Nigerian setting to give rise to the Nsukka experiment, in order to evolve and develop a truly Nigerian and African University.  Like many innovations, UNN was not given a chance to succeed by many critics.  Coming from our colonial past, the idea of independent autonomous University in Black Africa never appealed to those who were used to a different arrangement, especially those who believed a period of apprenticeship under a foreign university was necessary.
Also, UNN's choice of starting a straight 4-year programme and combining it with the 3-year direct-entry programme, was criticized as lowering of standards; even by the 1963 report of the National Universities Commission.  That report said that General Studies Courses given at Nsukka could not bridge the gap between Ordinary-Level GCE and Advanced-Level GCE in content of knowledge.
It was argued that a 4-year degree programme at Nsukka would not be equivalent in academic achievement to a 3-year programme from Advanced-Level at other universities.  Nsukka was dismissed as a glorified high school by journalists, and by comments on the floor of Nigerian Parliament, which were reported in the Parliamentary Hansard.
The unexpected performance of graduates of UNN in the Public Service exams into Federal, Eastern and Western Nigeria Public Services put an end to doubts over the quality and efficacy of the new system at Nsukka.  Your Pro-Chancellor today was a pioneer student of the 4-year programme at Nsukka.  Since then, the Nsukka system has been adopted, and 4 years after the inception of UNN, all the other Nigerian universities are running the Nsukka system.
On Saturday, October 5, 2013 the University of Nigeria, Nsukka celebrated its first graduates, the Class of 63.  The occasion inspired a lot of nostalgia, especially for the first graduates, the celebrants, who were able to make the occasion.  It also as well, generated substantial faith and pride in the rest of us, current and future Lions and Lionesses of the Varsity of Nigeria, the great citadel of higher learning, who were physically present at the Princess Alexandria Unity Hall to witness the event and 50 years of our Alma Mater producing graduates.
That epoch-making event which was conceptualized, initiated and implemented by the current administration of our Alma Mater, under the Vice-Chancellor, Professor Bartho Okolo, helped to beam the light on our past, in order for us to know it, understand it and to draw appropriate lessons from that past to influence our today and the future.
For the records, let us reiterate that the Nsukka experiment has been a huge success, despite prejudices against it at inception, which progressively faded away as the quality of education given at Nsukka became apparent.
We also recall that two years and two months after its first graduates emerged, the Alumni of your University, by their own free will, on August 28, 1965 gathered to inaugurate an Alumni Association of this great citadel of Learning.  Dr. Nnamdi Azikiwe, Chancellor of the University at the time, sent a message to commemorate the occasion which focused on the sacred mission of Nsukka, to wit:
(a)    impart knowledge and skill as an avenue to gainful employment;
(b)    inculcate ethical principles as the basis of good character;
(c)    induce social consciousness as a means of community services;
(d)    resist social injustice in the universal cause of human freedom;
(e)    contribute to the advancement of learning by adding new dimensions to university education;
(f)    develop a stable personality in the individual so as not to distort man's image as a creator and preserver of culture.
In keeping with the vision and motto of our Alma Mater, which is "to restore the dignity of man", Zik enjoined the pioneer Alumni to hold aloft the torch of learning and service, generated at Nsukka, "so that men and women may see your good works and glorify your alma Mater".
The Acting Vice-Chancellor of the University at the time, and Chief of Party of the American team at Nsukka, Dr. George H. Axinn, saw the occasion as a historic one and focused on the burden of history that the pioneers of Nsukka must carry.
In his words, "the reputation of the University of Nigeria is in the hands of its graduates.  By your success and failure, shall your University be known….  As the University of Nigeria attains stature and international recognition, you too shall enjoy prestige and stature …. Together with your University, you can be living examples of our motto: to restore the dignity of man.  If the University falls by the wayside and remains not true to its basic philosophy, we shall all be shamed".
It follows from the foregoing, that for us to have much to be proud of, our University must remain true to its basic philosophy.  It must seek the truth, teach the truth and preserve the truth; and we must dedicate ourselves, all the time, to the service of the people of our nation, Nigeria, Africa, the Black race and humanity.  I beg una, make we de speak truth o!!!
Today, therefore, as we focus on the future, because history is also about looking forward than it is about looking backward, you can imagine the predicament of Council members listening to the then Federal Minister of Education, Professor Ruqayyatu Ahmed Rufa'I, at the inauguration ceremony of Governing councils of 21 Federal Universities on Tuesday, 9th April, 2013 at the National Universities Commission Auditorium in Abuja as she observed as follows, and I quote: "Government has become inundated with allegations of poor governance of our universities, as well as total disregard for due process.  Government has therefore meticulously searched out and appointed these men and women of proven integrity, who have made impact on various areas of human endeavour.  We hope that they will bring to bear their wealth of experience and regard to the rule of law and due process in the discharge of their responsibilities".
The Minister further identified some challenges which have incapacitated the education sector in Nigeria from achieving the set goals of the Ministry's 4-year strategic plan for development, despite the reform of the sector remaining on course; and which challenges have negatively impacted on the development of tertiary education in Nigeria.  Some of the challenges include:
i.    poor management of funds and human resources;
ii.    inadequate human resource and physical infrastructure;
iii.    unstable academic calendar;
iv.    examination malpractice;
v.    decline in academic standard;
vi.    inadequate space for the teeming population seeking admission into tertiary institutions;
vii.    general insecurity, and others.
These challenges did not come overnight.  They were an outcome of a longtime of neglect and poor management.
In the case of University of Nigeria, Nsukka, sometime in the eighties, the situation deteriorated with the politicization of the position of Vice-Chancellorship of the University, and took several downturns because of epic battles for dominance of the University by University of Ibadan returnees to Nsukka.  With time, this degenerated to a competition among them after they had taken over control of the University that most of them opposed and derided at inception, but now have made careers out of.
Further deterioration came as statism crept into it all and the struggle for Vice-Chancellorship degenerated into an Imo-Anambra conflict, then to Anambra-Imo-Abia-Enugu conflict, and if not checked, shall further deteriorate to a whirlpool of absurdity.  All these have contributed inexorably to producing a disabling environment for the actualization of the vision and mission of the Varsity of Nigeria, your Alma Mater.
In spite of this development, universities remain the place best suited for fashioning ideas in research and technology for driving progress in social, political and economic advancement of society.
Although the present Federal Government of Nigeria under President Goodluck Ebele Jonathan is tackling problems of funding, infrastructure, training and human capacity development in our universities and recently released N130bn for that purpose, it is clear that given competing demands for funds from other sectors of the economy, the tertiary education sector appears condemned to limited funds.  This is why judicious utilization of the limited funds allocated by Government becomes quite imperative and ideas for improving ability to generate more revenue, outside government allocations, become necessary and welcome.
The 14th Governing Council of your Alma Mater, at its first meeting on May 24 – 25, 2013 at Nsukka resolved and adopted a template based on the charge of the Honourable Minister of Education to Governing Councils of Federal Universities to guide its work for its 4-year tenure.
To this end, Council is committed to:
(i)    ensure best governance practices; and uphold legality, transparency, and openness; to eschew impunity; to respect approved scheme of service for Federal Universities;
(ii)    prevent the creation of bogus and unnecessary political portfolios such as Personal, Special, Senior Special Assistants etc. which duplicate the duties of schedule officers and put unnecessary burden on wage-bills; and pledged to:
(iii)    discharge its responsibilities of policy formulation, oversight, general superintendence of the affairs of the University, including proper control of its finances, appointments, promotions, welfare and discipline of University staff while following laid down rules and laws establishing and governing universities in Nigeria.
I make bold to say that working in the fullness of its charge to the glory of the vision of the Founding Fathers, that the spirit of Nsukka is new, it is different and it is better, the 14th Governing Council is committed to ensure that  Nsukka's destiny is fulfilled. That is why we have come to Los Angeles to rob minds and hold a robust dialogue with you on the way forward.
The past is over with, and a new dawn shall open from Los Angeles, California, which today is our own burning bush.  We must make Los Angeles a symbolic turning point and turn from here to effect a strategic retreat from the disabling paths that we have hitherto walked.  henceforth, like Moses did in the Bible, we must see the new door that we shall follow in order to embark on the process of that restoration of the restorer of the dignity of man – our Alma Mater, the Varsity of Nigeria, our own University of Nigeria, Nsukka.
Only by so doing, shall this Los Angeles Conference of UNN Alumni-USA, which have in attendance a powerful representation of the National UNN Alumni leadership, from Nigeria, led by our President, Dr. Chioke Nwanne and a delegation of the Governing Council and Management of the University of Nigeria, Nsukka, be said to be comparable in our history, only to the maiden inaugural of the Alumni body, hosted at Nsukka on the first Alumni Night on June 9, 1963.
Speaking on that occasion, Dr. G. M. Johnson, first Vice-Chancellor of the University of Nigeria, Nsukka observed that the First Alumni Night marked the beginning of a new force on the Nigerian scene.
Today, 50 years after, the UNN Alumni Association has had 10 National Presidents, namely:
1.    Professor B.I.C. Ijomah        –    1965-1975
2.    L. O. Orisakwe                –    1975-1980
3.    Chief Nduka Eya            –    1980-1987
4.    Sir (Dr.) G.T.G. Toby        –    1987-1989
5.    Nze, Professor M.A.C. Odu    –    1989-1993
6.    Sir Goddy Agbasi            –    1993-1997
7.    Arc. Ezigbo Okoro            –    1997-2001
8.    Dr. Okey Ewurum            –    2001-2005
9.    Sir Nze Anayi                –    2005-2009
10.    Dr. Chioke Nwanne            –    2005-date
I believe that there is now an urgent need to better prime our Association for the tasks ahead.  It is therefore my prayer and hope that a new formidable and internationally-networked National Alumni Association, indeed a new renaissance force shall be given birth to from here in Los Angeles going forward; for among us gathered here, will be ordained new Pauline disciples who shall constitute the new coalition of the willing and able believers in the mission of Nsukka, who shall take Nsukka from where it is today and drive it towards the realization of its uncommon but true mission.
Today, we were treated to slides which made bold to suggest and brand the University of Nigeria as not lacking a befitting campus, a University that does not lack infrastructure, funds and Management.  But I can tell you that the University of Nigeria lacks adequate finances and quality infrastructure; it lacks appropriate and proper financial records, transparency and accountability; it can use improved, efficient and good management system and it lacks security.  It would also need to operate a credible budget system.
As we witness the breakdown of the efficacious system that our Founding Fathers labored to put in place, and behold its checks and balance system go out of sync, may we never be deflated.  May great remorse and guilt eat away at those who directly or remotely may have had any role or part, however insignificant, to play in visiting this infamy on our Alma Mater.  May bad dreams dominate their nights and follow them all the days of their lives.  May we be able to weather every negative situation that shall come our way, as we embark on the noble task of the Resorgimento of our Alma Mater to successfully resume and finish its work of destiny.
Putting the future of our Alma Mater, the University of Nigeria, Nsukka on a stable and sound footing to compete favourably in the global arena is an enormous task.  To accomplish this task, it is imperative that a virile University of Nigeria Alumni worldwide organization would be required and midwifed to enable the graduates of the University have a robust presence, as well as claim their historic role in the shape of things to come.
Every effort also must be made, through a conscious admission and recruitment policy, to restore the international character of the staff and student population of University of Nigeria, Nsukka.
We have come to Los Angeles to sow the seed that shall rally UNN Alumni worldwide, to the defence of their Alma Mater, the University of Nigeria, Nsukka.  Let us make a determined effort to reach out to all Alumnus in every cranny in the world and rally Lions and Lionesses to the fold.
In this regard, it is our wish and prayer that the Asaba Convention of our Alumni Association in December 2013 shall be decisive in concretizing the outline and shape of our new direction, and as well herald the requisite shift of focus and traction for the accomplishment of this difficult but necessary historic task.  It is do-able, and we shall do it.  Yes we can!!!
May the University of Nigeria, Nsukka at this hour of need, not suffer desertion from its disciples.  May the Holy Spirit supply us with the strength to run this race.  So help us God.
Thank you and God bless you.
Sir, Dr. Emeka Enejere
Pro-Chancellor and Chairman
Governing Council
University of Nigeria, Nsukka.
Source: www.unn.edu.ng