Professor Samuel Ohaegbulam Gets National Merit Award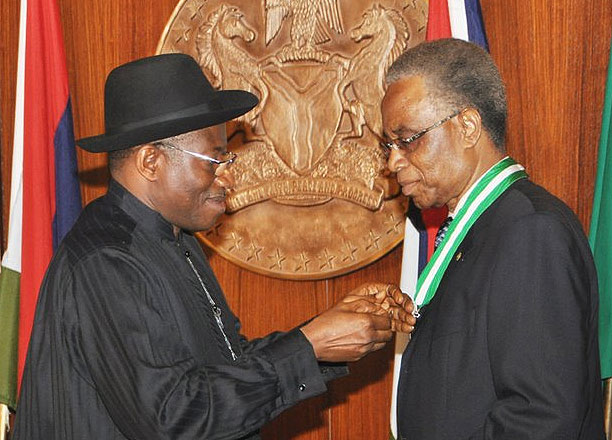 President Goodluck Jonathan has presented the 2012 Nigerian National Order of Merit Award to Professor Samuel Ohaegbulam (medicine) and Professor Emmanuel Oyeleye (humanities) at the Council Chambers of the Presidential Villa, Abuja.
The president said that the purpose of the award is to encourage technological research essential for socio-economic development of the country.
Jonathan also assured the Nigerian National Merit Award (NNMA) of Federal Government continuous support.
According to him, the administration was committed to fully supporting the NMMA and its activities.
Prof Samuel Ohaegbulam is a consultant neurosurgeon at the University of Nigeria Enugu Campus and director of Memfys neurosurgical hospital Enugu, while Prof Emmanuel Oyeleye is with the University of Ibadan.
The national order of merit award is the highest and most prestigious honour the nation bestows on its citizens at home and in the Diaspora for proving creative intellectual and academic contribution of national and global significance.
The number of recipient of the 33-year-old award which spreads across all areas of human endeavours with the two new awardees has increased to 67, an average of two per year.
The limited number of recipient per year according to the president is an indication of the high standard of procedures employed in the selection process.
Inducting the recipients, the President urged them to sustain their interest in research and to also remain as sources of inspiration to all.
He said, "These recipients are today admitted into this very admirable, respected and distinguished class of Nigerians as 66th and 67th members. By your remarkable achievements, you have made Nigeria proud and once again put our nation on a high global pedestal. It is my hope that you will sustain your interests in research and excellence and remain sources of inspiration to all and sundry especially our upcoming generation."
To stay updated with news – updates from the University of Nigeria, Nsukka, click on the link below to like us on facebook;
www.facebook.com/UnnInfo
Don't forget to, Share this Info with your friends using the Facebook share button at the end of this page
join Us on Facebook and twitter for more Interactive infos/updates…