Download WAEC GCE Timetable 2017 Nov/ Dec Pdf Free.
The November / December 2017 Waec gce timetable has been updated by the West African Examinations Council (WAEC) who had published a comprehensive official time table for the 2017 General Certificate Examination (GCE) for candidates writing the exam.
The Waec Gce exam is scheduled to commence on Tuesday, 15th August and end on Wednesday, 4th October, 2017. Candidates are to view the full time-table below;
WEST AFRICAN SENIOR SCHOOL CERTIFICATE EXAMINATION FOR PRIVATE CANDIDATES, 2017 FINAL INTERNATIONAL TIMETABLE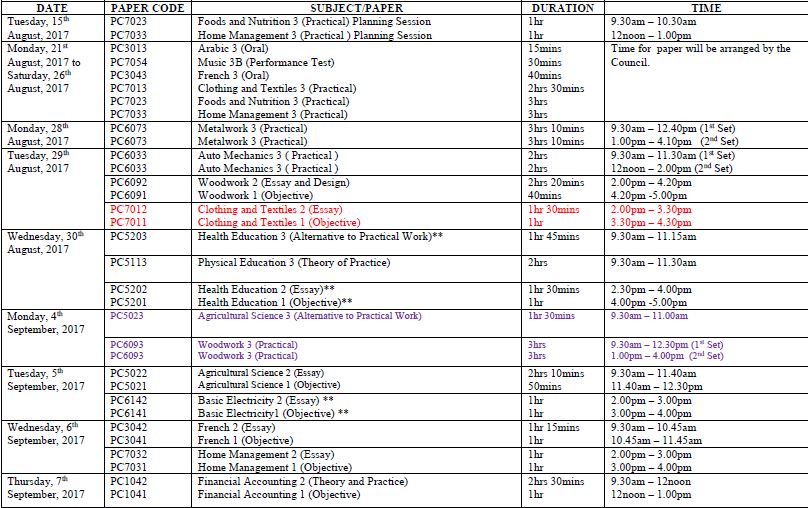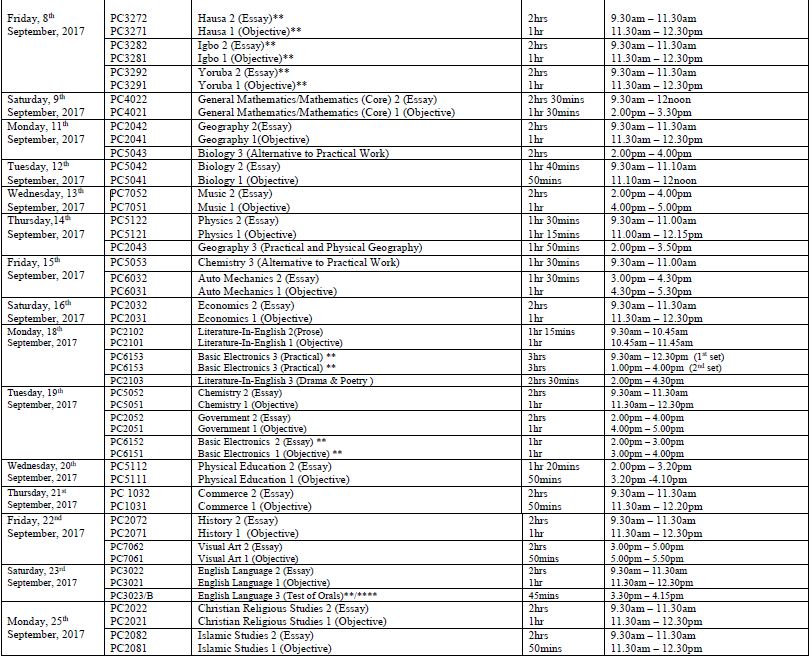 Candidates can download Weac Gce time-table in Pdf from the link below;
>> http://unn-edu.info/wp-content/uploads/2017/08/waec-gce-2017-timetable.pdf
* Available to candidates in Ghana only
** Available to candidates in Nigeria only
*** Available to candidates in The Gambia and Sierra Leone only
**** Available to candidates in Liberia only
Important Notes:
Difference in Time on Question Paper and Timetable: Where the duration indicated on the question paper differs from that on the timetable, the one on the question paper should be followed.
Question Papers to be Given Out in Advance of the Dates They Are to be Taken
– Visual Art 3;
Paper 3A – Instructions will be given to supervisors two weeks before the paper is due to be taken.
Paper 3B – Question papers will be given to candidates two weeks before the paper is due to be taken.
Extra Time for Blind, Deaf and Dumb Candidates: Blind, deaf and dumb candidates should be allowed one and half times the time allotted to other candidates.
The West African Examinations Council is West Africa's foremost examining board established by law to determine the examinations required in the public interest in the English-speaking West African countries, to conduct the examinations and to award certificates comparable to those of equivalent examining authorities internationally.
The exam body remains Africa's foremost examining body, providing qualitative and reliable educational assessment, encouraging academic and moral excellence and promoting sustainable human resource development and international
co-operation.