2019 WAEC Yoruba Question & Answers Released.
The Waec yoruba question 2019 is now available. The West African Examination Council (WAEC) SSCE Yoruba Language paper will be written on Monday, 29th April, 2019.
The o'level Waec yoruba questions 2019 below is for Paper 1 & 2: Objective & Essay which will commence from 9.30am and end by 12.30pm. That means the examination will last for three hours.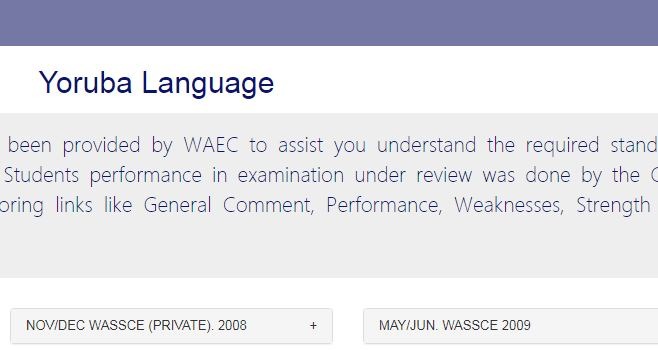 WAEC Yoruba Questions & Answers 2019:
SECTION A: Aroko
1. (a) Ìdíje kan tí ó wáyé ni ilé-ẹ̀kọ́ mi.
(b) Ọ̀rẹ́ mi tí mo fẹ́ràn jù lọ.
(c) Ìsàlẹ̀ orọ̀ ní ẹ̀gbin.
(d) Ẹ̀sìn ti dòwò lórílẹ̀ èdè yìí.
(e) Ko lẹ́tà sí ọ̀rẹ́ ri tí ó wà ní ilẹ̀ òkèèèrè kí o sàlàyé  akitiyan ìjoba lórí iná ẹ̀létíírìkì ní orílẹ̀-èdè rii.
2. sàlàyé ìhun ọ̀kọ̀ọ̀kan àwọn wúnrẹ̀n wọ̀nyí kí o sì fi àppeere méjì méjì gbe ìdáhùn rẹ̀ lẹ́sẹ̀:
(a) àrànmọ́wájú;
(b) àrànmẹ́yìn:
(c) àrànmọ́ aláìfòró.
3. (a) Kí ni fáwẹ̀lì?
(b) Ṣe àpèjúwe ọ̀kọ̀ọ̀kan àwọn fáwẹ̀lì wọ̀nyí:
[i], [Ԑ], [a], [o], [ũ], [ͻ̃].
4. (a) Da´ru´ku i`s?`ri´ ?`r?` ti a fala` si´ ni´nu´ ?`k?`?`kan a`w?n gbo´lo´hu`n w?`nyi´:
(i) E?ku`n pa eran.(ii) B?´la´ ri`n de´ ile´.
(ii) W?´n gba owo´ Ade´??la´.
(iii) O´ pupa fo`o`.
(iv) Aja´ gbe´ eegun.
(v) Mo fo aoo.
(b) Lo ?`k?`?`kan ?`r?` ti a fa`la` si´ ni ab?` (a) g?´g?´ bi´ ori´ ni´nu´ gbo´lo´hu`n a`ki´ye`si´ ala´t?num?´.
5.  
SECTION B: Litireso 
6. Nínú ìtàn "Ìjàpá àti àwọn Ẹranko" ète wo ni Ìjàpá pa àti pé báwo ni àṣírí rẹ̀ ṣe tú?
7. Ṣalàyé ohun tí ifá so nipa Ògún.
8. se àlàyé kikún nipa bi Ọ̀jẹ́làdé ti o di ọ̀nì ṣe di ènìyàn padà.
9. Ṣàlàyé lẹ́kùnrẹ́rẹ́ ohun tí ó ṣokùnfà kíkó jáde ìyá Ọlánikẹ̀ẹ́ nílé ọkọ rẹ̀ lẹ́ẹ̀kejì.
10. sàlàyé ìhùwàsí Ahun gẹ́gẹ́ bi akéwì ṣe fì yé wa nínú ewì náà.
11. sàlàyé bí Àbẹ̀ó ṣe ba ayé Àńwòó jẹ́.
SECTION C: ASA
12. Dárúku oríṣì oúnje mẹ́fà tí a ń fi erèé/ẹ̀wà se kí o sì sàlàyé bí a tì ń se méjì nínú won.
13. Dárúko mẹ́fà nínú irinṣẹ́ àgbẹ̀de kí o sì sàlàyé sókí sókí lórí ọ̀kọ̀ọ̀kan.
14.