2017 WAEC GCE Geography Practical Answers for Physical Geography Questions Released.
The West African Examination Council (WAEC) physical geography practical gce exam paper will be written on Thursday, 14th September, 2017. The paper is for geography map reading.
The Geography practical paper will start by 2:00pm and will last for 1hr 50mins.
In this post, we will be posting out samples of the waec gce geography questions for candidates that will participate in the examination for practice purposes.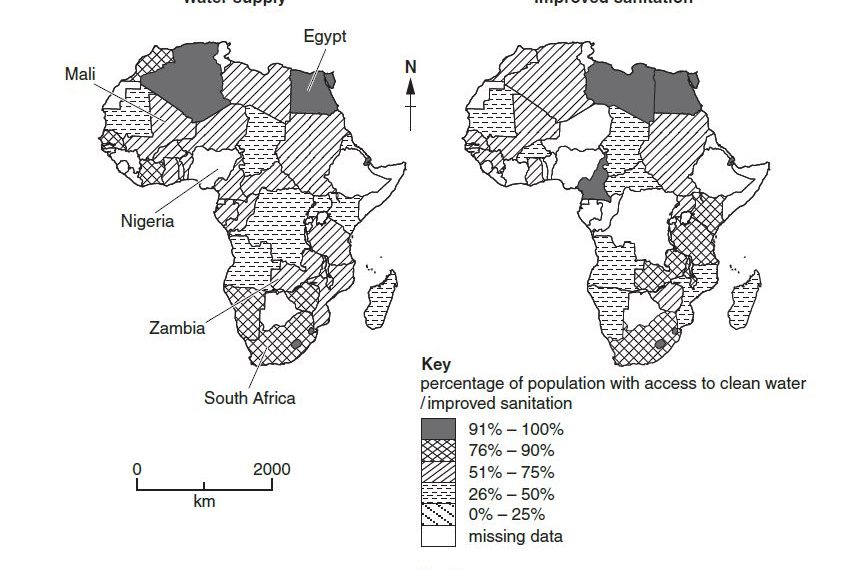 QUESTION 1
(a) Study the figure above, which shows information about the percentage of the population which has access to a clean water supply and improved sanitation in Africa.
(i) Circle the country in the following list which has the best access to both clean water and improved sanitation.
Egypt         Mali       South       Africa       Zambia
(ii) Complete Fig. 7 by using the following information:
54% of the population of Nigeria has access to clean water;
35% of the population of Nigeria has access to improved sanitation.
(iii) Explain how sanitation can be improved in an LEDC.
(iv) Describe four different ways in which water supplies can be increased in a country.
QUESTION 2
(a) Using the map extract (attached), identify the features shown on map:
(i) feature A;
(ii) the type of road at B;
(iii) the type of boundary at C;
(iv) the settlement pattern at D;
(v) the coastal vegetation at E;
(vi) the coastal vegetation at F;
(vii) river feature G;
(viii) coastal feature H.
(b) Suggest two reasons why areas of a high population are located close to some volcanoes.
NOTE: There is nothing like Waec Gce geography expo online. Do not be deceived by fraudsters posing with fake Waec answers on the internet.
Keep following, more questions and answers will be added soon.