2018 WAEC GCE English Answers is Now Out – Waec English Language Essay, Objective & Test of Oral Questions Released.
Waec gce english exam 2018 details is now available. The West African Examination Council (WAEC) General Certificate Exam (GCE) English Language paper will be written on Saturday, 12th 29th September.
There will be three papers in Waec Gce English 2018 – Papers 1, 2 (Objective and Essay) and 3 (Oral) which will start by 9:30am and end by 4.15pm.
PAPER 1: Will consist of eighty multiple choice questions, all of which should be answered within 1 hour for 40 marks.
PAPER 2:

 Will consist of five essay topics and a passage each to test candidates' comprehension and summary skills. Candidates will be expected to write an essay on one of the topics and answer all the questions on Comprehension and Summary passages. The paper will last 2 hours and carry 100 marks.

PAPER 3:

 Will consist of sixty multiple choice items on Test of Orals for candidates in Nigeria and Liberia, and that on Listening Comprehension for candidates in Ghana, The Gambia and Sierra Leone. All the questions will be answered in 45 minutes for 30 marks.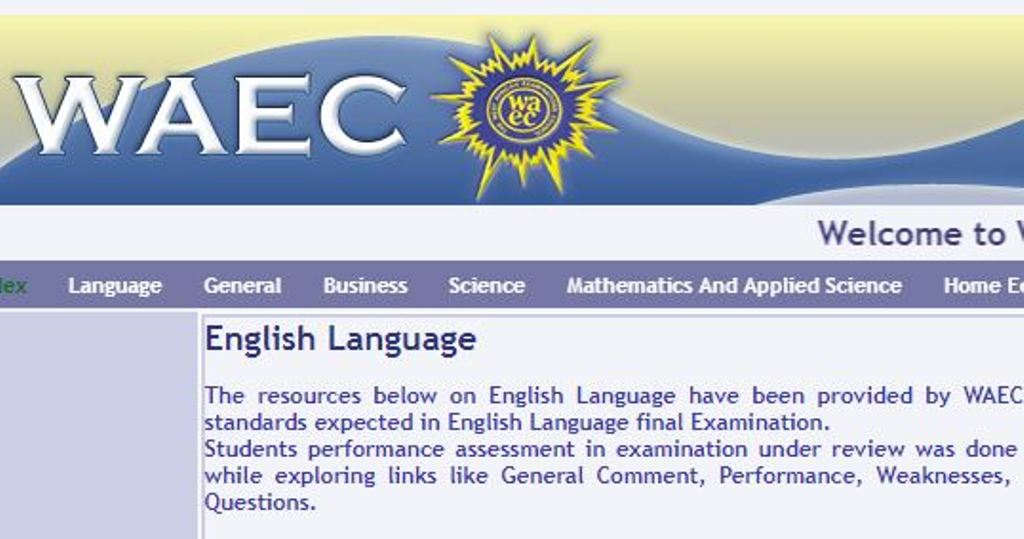 In this post, we will be posting sample questions from Waec gce english past questions and answers that we feel are likely questions for  preparation.
WAEC GCE English Essay Questions:
PAPER 2
SECTION A
CONTINUOUS WRITING
(50 MARKS)
You are to answer only one question from this section. All questions carry equal marks. Your answer should not be less than 450 words. You are advised to spend about 45 minutes on this section.
1) Write an article suitable for publication in your school magazine on the dangers of keeping bad company in school.
2) Write an article to be published in a national newspaper on the menace of indecent dressing in the society.
3) Activities such as debates, drama and excursions are now rare in schools in your country. As the Senior Prefect, write a letter to your principal suggesting the revival of these activities and pointing out what students stand to gain from taking part in them.
4) You are the chief speaker in a debate on the topic: Religious education should be made compulsory in schools.
5) A friend of yours who has been living in Europe for some years has written to invite you to join him. Write a reply to his letter giving, at least, three reasons why you would rather remain in your country.
SECTION B
COMPREHENSION
1.
Waec GCE English Objective Questions 2018:
PAPER 1
SECTION 1
In each of the following sentences, there is one underlined word and one gap. From the list of words lettered A to D, choose the one that is most nearly opposite in meaning to the underlined word and that will, at the same time, correctly fill the gap in the sentence.
1. Most African countries face poverty while few enjoy ………………
A.  influence
B.  money
C.  affluence
D.  power.
2. Last year our farmers cultivated more crops than they……………
A.  destroyed
B.  uprooted
C.  harvested
D.  yielded.
3.
SECTION 2
From the words lettered A to D, choose the word that best completes each of the following sentences.
11. There would have been a riot in our school but for the timely ……….. of our staff.
A.  intervention
B.  interruption
C.  interference
D.  invasion.
12.  The armed robbers …every room in the bank to look for money.
A.   explored
B.  ransacked
C.  raked
D.  swept.
13.
SECTION 3
After each of the following sentences, a list of possible interpretations is given.   Choose the interpretation that you consider most appropriate for each sentence.
21.  Ade is too clever by half. This means that Ade is
A.  far cleverer than others
B.  actually very stupid in his behaviour
C.  annoyingly clever
D.  behaving to be clever but is not.
22. Ameh is really being economical with the truth. This means that Ameh
A.  is being praised for being honest
B.  does not know enough
C.  knows more than he is prepared to say
D.  is not telling the truth.
21.
SECTION 4
From the words lettered A to D below each of the following sentences, chose the word or group of words that is nearest in meaning to the underlined word as it is used in the sentence.
31. By failing to attend the interview, Idoko has lost a golden opportunity.
A.  blessed
B.  bright
C.  good
D.  delightful.
32. I hope the principal would be gracious enough to forgive us.
A.  cordial
B.  polite
C.  merciful
D.  gentle.
33.
SECTION 5
From the words or group of words lettered A to D, choose the word or group of words that best completes each of the following sentences.
41. A good citizen abides …..  the rules of the land.
A.  with
B.  in
C.  at
D.  by
42. Since his swearing in, the governor ………..  his hometown.
A.  had not been visiting
B.  has not visited
C.  did not visit
D.  had not visited.
43.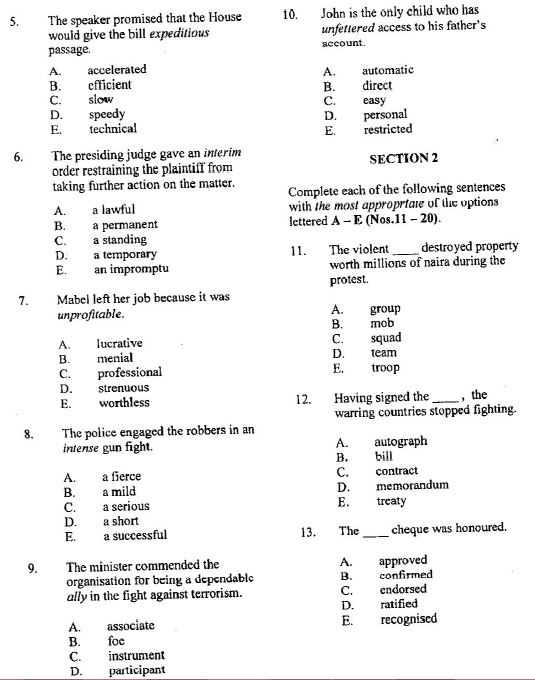 Keep following this page and make sure you bookmark this site for reference purposes. If you have any questions, endeavour to use the comment box below…