NECO GCE Literature Answers 2017 for Drama & Poetry Questions Paper is Officially Out Here.
See Neco Gce Lit-in-English Drama and Poetry answers 2017. The National Examination Council (NECO) General Certificate Examination (GCE) for Nov/ Dec 2017 Literature-In-English Language theory paper will hold on Thursday 2nd November from 3:30pm.
As you know, there are three papers in NECO Lit in English – Papers II, III and IV, all of which must be taken. Paper III & IV (Objective and Prose) was combined in a paper taken at one sitting while Paper II: Drama and Poetry will be on Thursday, 2nd.
In this post, we will be posting out samples of the neco literature in english questions for candidates that will participate in the 2017 examination.
Note that below is the questions from Neco literature past questions and answers that we feel are likely questions for GCE preparation.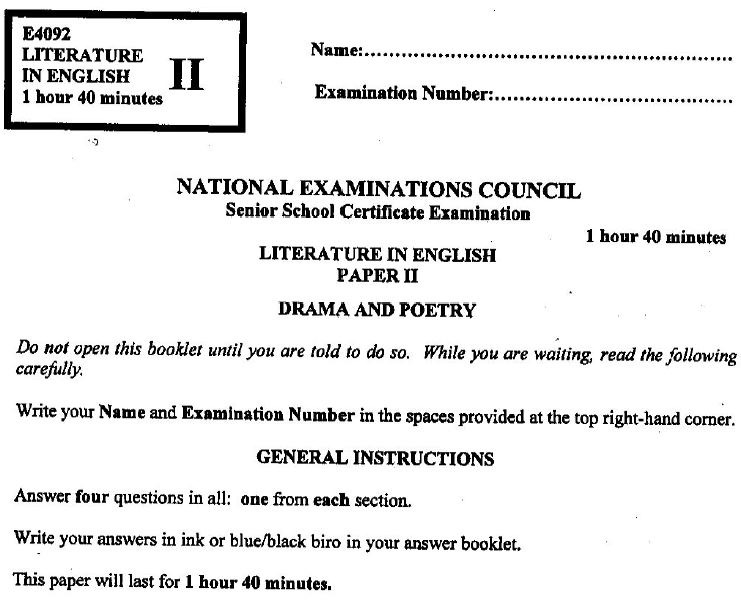 Paper III will be an objective exam. do not start paper IV until you are told to do so.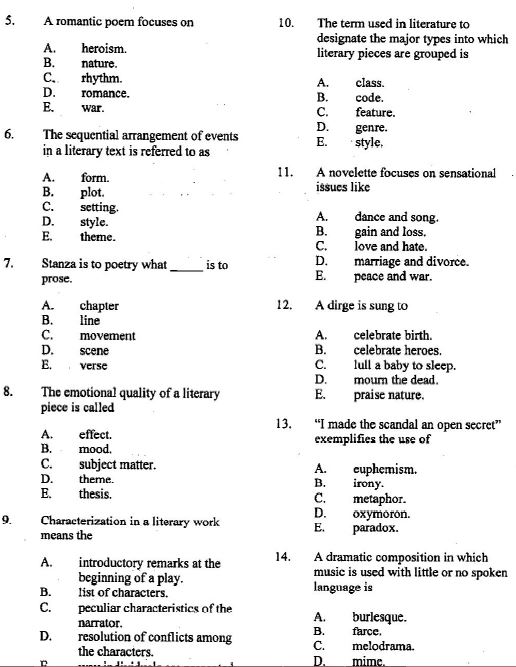 Neco Literature Syllabus Reading Text for 2017 GCE:
African Prose
AmmaDarko – Faceless
BayoAdebowale – Lonely Days
Non-African Prose
Richard Wright – Native Son
Patience Swift – The Last Goodman
*William Shakespeare – OTHELLO
Non-African Drama
Oliver Goldsmith – She Stoops to conquer
Lorraine Hansberry – A Raisin in the Sun
African Drama
Frank Ogodo Ogbeche – Harvest of Corruption
Dele Charley – The Blood of a Stranger
African Poetry
Birago Drop – Vanity
Gbemisola Adeoti – Ambush
Gabriel Okara – Piano and Drums
Gbanabam Hallowell – The Dinning Table
Lenrie Peter – The Panic of Growing Older
Kofi Awoonor – The Anvil and the Hammer
Non-African Poetry
Alfred Tennyson – Crossing the Bar
George Herbert – The pulley
William Blake – The School Boy
William Morris – The Proud King
Robert Frost Birches – Birches
William Shakespeare – Shall I compare thee to a Summer's Day?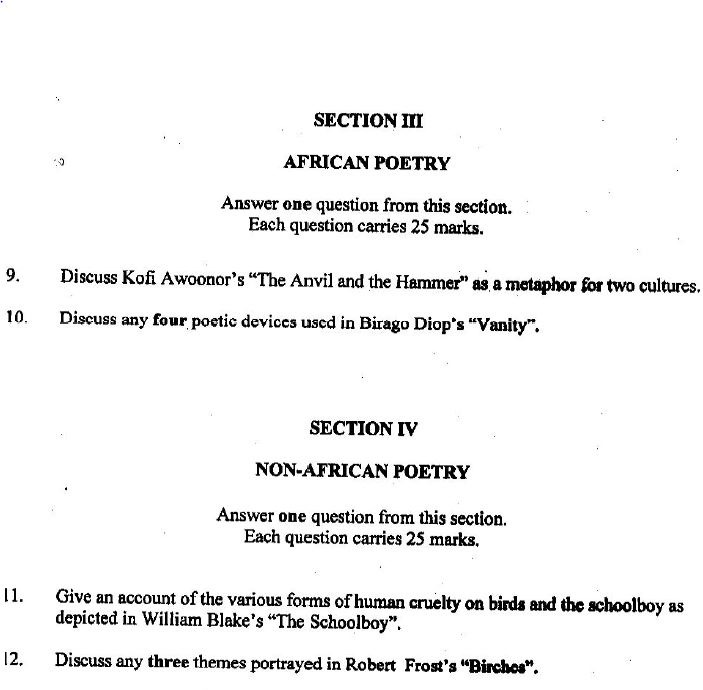 Note:
(i) The Unseen Prose passage for Paper 1 shall be about 120 – 150 words long.
(ii) Only context questions shall be set on the Shakespearean text. The context questions will test such items as theme, characterization, style and setting in the Shakespearean text.
(iii) No essay question shall be set on the Shakespearean text.
Bringing GSM into the Examination Hall is PROHIBITED. THE ALBINOS AND BLIND CANDIDATES ARE TO BE GIVEN 15 MINUTES EXTRA TIME ACROSS ALL SUBJECTS.
BLIND CANDIDATES MUST MAKE USE OF NECO SUPPLIED OBR CUSTOMIZED BRAILLE SHEET FOR THE EXAMINATION.
Keep following this page and make sure you bookmark this site for reference purposes. If you have any questions, endeavour to use the comment box below…