NECO GCE 2017 Geography Questions for Objective & Practical / Physical Geography Answers (Map Reading) Released.
The National Examination Council (NECO) Geography Senior School Certificate Examination (SSCE) paper will take place today, Friday 21st July.
The 2017 Neco geography exam will comprise of Papers III & I: Objective & Practical / Physical which will commence from 10.00am and end by 12.30pm. That means the examination will last for two hours thirty minutes (2hrs 30mins) only.
The physical and practical geography part involves map reading which all the tools needed will be provided for the candidate. In this post, we will be posting out samples of the neco geography questions for candidates that will participate in the examination for practice purposes.
Continue reading below.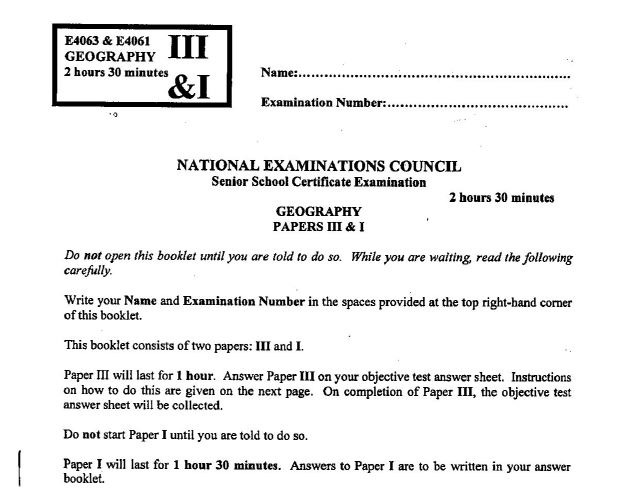 Practical [Map reading] Sample;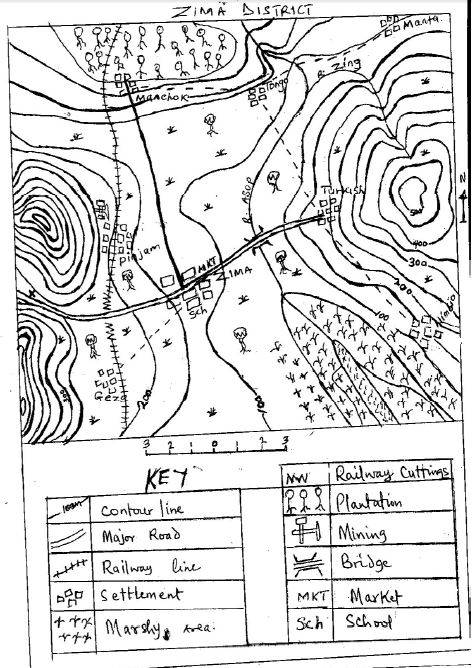 Neco Geography Theory Sample Questions;
1. a) Draw a sketch map of Nigeria.
b) On the map, show and name:
i) Rivers Niger and Benue;
ii) one zone of sandy soil;
iii) one zone of forest soil;
iv) Lagos.
c. Describe the alluvial soil zone in Nigeria.
d. Outline the importance of alluvial soil zone in Nigeria.
Also See: NECO GCE Registration 2017 Commences
Hint: The importance of alluvial soils in Nigeria include: could be extracted for construction, used for arable farming, provides base for port construction, used for pedelogical research, provide site for the construction of human settlement; produce  raw materials for local crafts industries and base for alluvial gold.
2. a) Highlight any three main characteristics of each of the following settlement types:
i) village;
ii) town.
b) State any four factors which are responsible for the growth of urban centres.
3. a) Define the following population terms:
i) census;
ii) mortality rate;
b) family planning.Outline any three problems confronting a country that is overpopulated.
c) Highlight any three ways by which the problem of overpopulation can be solved.
4. Write a geographical description of Chad Basin under the following:
a) relief and drainage;
b) people, population and settlement;
c) economic activities;
d) problems of development.
5. (a) Draw an outline map of Africa. On the map, show and name:
(i) any three rivers important for generating hydroelectricity;
(ii) any two dams on two of the rivers.
(b) Outline any five benefits of hydroelectric power to the people of Africa.
Neco Geography Objective Questions:
Note: There is nothing like Neco Geography Expo online. Neco Ssce candidates are to desist from patronizing online fraudsters / vendors who says they can provide such services as they are not real.
Keep following this page and make sure you bookmark this site for reference purposes. If you have any questions, endeavour to use the comment box below…